Your Reviews About the World
MyWorldReviews.com
Let the world know what you think
Vatican Museum and Sistine Chapel
Vatican City, Holy See (Vatican City State)
Vatican City, Holy See (Vatican City State)
mv.vatican.va/3_EN/pages/MV_Home.html
View Map
Overall Experience:
8 / 10
Date Visited:
Friday, May 7, 2010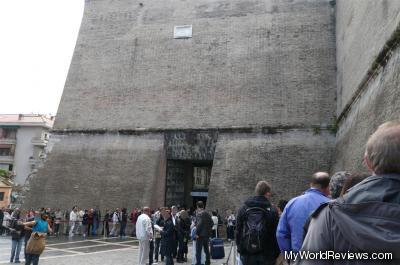 Entrance to the Vatican Museum
The Vatican Museums contain many pieces of artwork and artifacts that the catholic church has amassed throughout the centuries. The museum has numerous pieces of art, from many different time periods, and in many different formats. There are rooms for egyptian art, greek art, renaissance art, jars/pots, maps, frescos, etc. There are too many things inside the museum to properly appreciate all of them.
The museum is full of guided tour groups and can be quite crowded at times.
Admission
A Room of Statues
Admission to the vatican museums is currently 12€/person. It is highly recommended that you make a reservation online before visiting, otherwise you will be stuck waiting in a very long line. If you don't have reservations, it is recommended that you visit later in the day, perhaps around 1pm. The line is much shorter then.
Visiting The Museums
The Sistine Chapel
We heard beforehand that there was no signage or maps in the museum. If you aren't with a tour group, it's likely you'll miss some things. We paid 10€ for a guidebook with a map. It's pretty necessary if you want to see anything other than just the Sistine Chapel. On the way out, we tried to give away the guide book we purchased, but nobody was interested in taking it.
If you don't have a guide or a book, it's unlikely you'll get lost - there's mostly just one way through the museum, and you can always just follow the crowd. The Sistine Chapel is the last room in the path, and is near the exit. It is full of people taking pictures/video, and occasionally one of the guards will shout "Silence" or "No flash". There were signs saying no pictures, but the rules seem to have changed.
We went through most of the rooms quite quickly, and spent about 3 hours in the museums.
review contents
Admission
Visiting The Museums
related reviews
More reviews in Vatican City, Holy See (Vatican City State)
Been here? Want to write your own review of this attraction?