Your Reviews About the World
MyWorldReviews.com
Let the world know what you think
United Nations Tour
New York, New York, United States
760 United Nations Plaza
New York, New York, United States
212-963-8687
un.org/tours
View Map
Overall Experience:
6 / 10
Date Visited:
Friday, October 3, 2008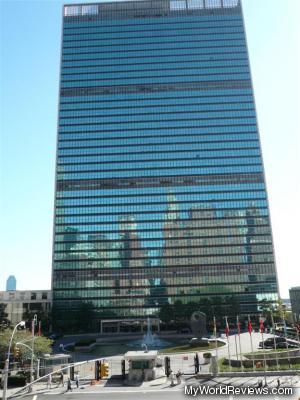 United Nations Secretariat Building
The United Nations offer a tour of the UN Headquarters in New York City. Much of the time on the tour is spent talking about the goals of the UN, and the different groups that it's made up of. The tour typically goes to both the General Assembly area and the Security Council room, but the Security Council area was off limits (due to renovations) when we visited.
The tour route had a number of artifacts along the way, making it somewhat like a museum. There were exhibits about landmines, nuclear weapons, the dates various countries joined, etc. Much of the tour route was set up like a museum. Unfortunately, our tour felt very rushed. There were a number of tours operating at the same time, and whenever our guide came to an area with another guide talking, he skipped it and moved on to another area. From what we overheard of the other tours, some of the members of our group got the impression that the tour would have been more enjoyable if we had a different guide.
Getting Tickets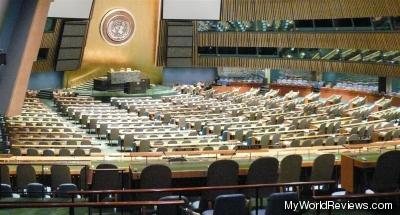 UN General Assembly Hall
The earlier you arrive at the UN building, the less time you will have to wait for a tour. Tours do fill up, so you probably don't want to wait until the afternoon to investigate getting tickets.
After going to the UN building (and going through security), you should approach the "Tour Tickets" desk located near the back of the main floor. Tickets are only given out for the next available tour - you cannot schedule a tour for later in the day.
When it is your turn for the tour, meet under the big "Tours Start Here" sign near the tour sales desk.
When we visited, we arrived around 11:00am, and the next available tour was 12:20pm. We went outside for a short walk while waiting since there wasn't much to see inside (so we had to go through the security line again).
Cost
The United Nations Tour costs $12.50 for adults, or $8 for students/seniors, or $6.50 for children.
Pictures are allowed anywhere on the tour, but our guide asked us not to videotape him speaking.
Estimated Visiting Time
The tour lasts approximately one hour.
review contents
Getting Tickets
Cost
Estimated Visiting Time
related reviews
More reviews in New York, NY
Been here? Want to write your own review of this attraction?