Your Reviews About the World
MyWorldReviews.com
Let the world know what you think
Under the Stars at the Time Warner Center
New York, New York, United States
10 Columbus Circle
New York, New York, United States
10019
shopsatcolumbuscircle.com
View Map
Overall Experience:
8 / 10
Date Visited:
Monday, November 17, 2008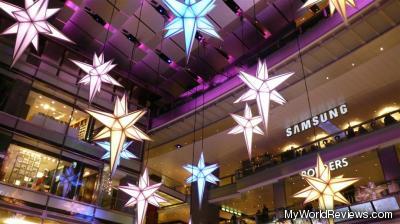 The Stars
The "Under the Stars" show is a free light show in the lobby of the Time Warner Center (at Columbus Circle) in New York City. There are twelve 14-foot stars hanging in the lobby. They are illuminated from within, and the colors are choreographed to music. The show starts at 5pm each day, and runs until closing. The show probably runs until Christmas.
I was really impressed with this lighting installation. The colors of the stars were very vibrant, and they changed with an impressive fluidity. They also sparkled at appropriate places during the songs. Very neat! If you're in the area, definitely check out the stars here - it's a fun Christmas show.
Estimated Visiting Time
We spent about 20 minutes just watching the stars. You can view them either from ground level, the 2nd floor balcony, or a tiny spot on the 4th floor.
review contents
Estimated Visiting Time
related reviews
More reviews in New York, NY
Been here? Want to write your own review of this attraction?