Your Reviews About the World
MyWorldReviews.com
Let the world know what you think
Typhoon Lounge
New York, New York, United States
79 Saint Marks Pl
New York, New York, United States
10003-7955
212-979-2680
View Map
Overall Experience:
5 / 10
Date Visited:
Saturday, August 2, 2008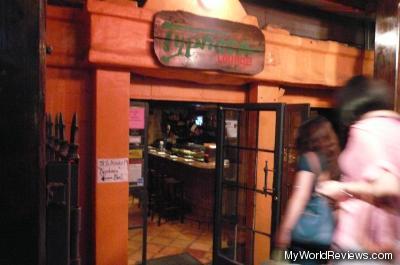 Typhoon Lounge
Typhoon Lounge is a Japanese restaurant located on St. Marks Pl (8th Street) near the corner of 1st Ave. In addition to Rice, Noodles, and Sushi options, Typhoon Lounge also offer a selection of Asian Tapas. In our group, we each chose a couple items from the Asian Tapas section to share.
The entrance to the restaurant is down a few steps from street level, so it's slightly underground. The restaurant was pretty dark on the inside, and it wasn't really decorated very nicely. Our waitress also forgot to bring us one of our items, which was a bit annoying. Nevertheless, I was pleased with the food that we ordered here. Everything we ordered was quite tasty.
The restaurant has a $9 minimum per person charge.
Dress
Dress is very casual.
Cost
Most of the small items we ordered were around $5-$7 each. Everything was small, so two of these items were necessary per person.
Items Ordered
Sesame Chicken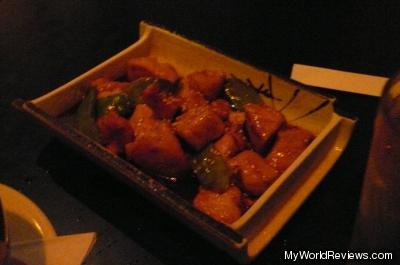 Sesame Chicken
Stir fried chicken & snow pea with mustard teriyaki sauce
The sesame chicken was pretty good, but wasn't really all that exciting. It was just a few pieces of stir fried chicken. The sauce was a sweet teriyaki sauce.
Gyu Suji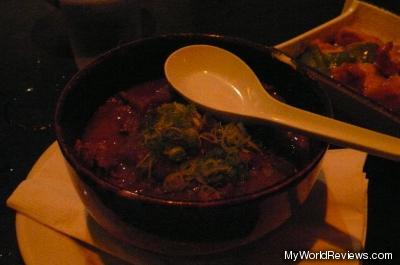 Gyu Suji
Japanese country style beef stew
The beef stew was a nice surprise. We weren't really sure what form it would take. It came out in a small bowl, and was a few pieces of beef in a gravy sauce. The gravy wasn't very thick, so we made use of the rice we ordered to soak it up.
Nasudengaku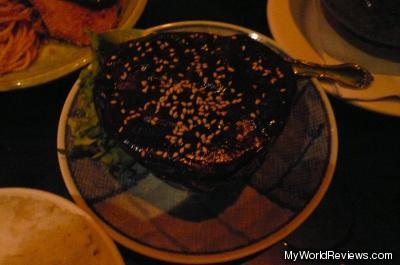 Nasudengaku
Grilled egg plant with sweet miso topped
This piece of eggplant had been cooking for awhile, since it was quite soft and tender all the way through. The eggplant looked like half a piece of eggplant - it hadn't been cut otherwise. The top of the eggplant was covered in a sweet miso sauce that was quite thick. I found the sauce too sweet (and salty), and didn't really enjoy it.
Tonkatsu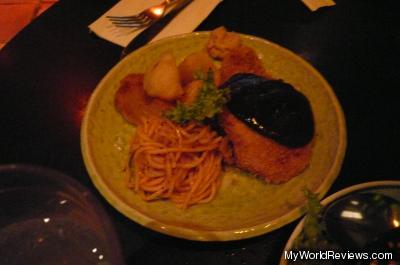 Tonkatsu
Pork cutlet with shiitake, mozzarella cheese & sweet miso sauce
This was another neat item. Cheese isn't a very Japanese ingredient, but nevertheless, there was cheese in this breaded pork cutlet. It was pretty good, but not one of my favorite items here.
Gyoza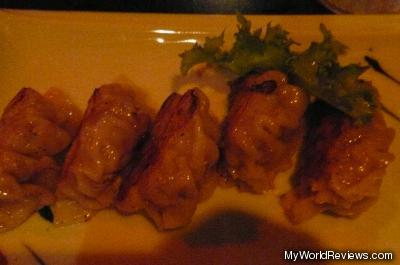 Gyoza
Home made pan fried pork & vegs dumplings
The pork dumplings were fairly typical dumplings. They were filled with pork and a variety of other small items.
Gomaae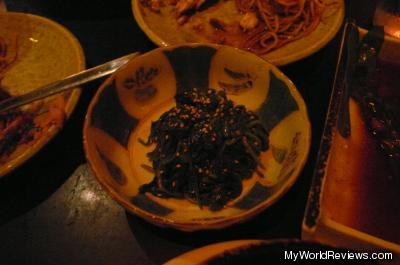 Gomaae
Marinated spinach with rich sesame sauce
This marinated spinach had a strong peanut flavor. It definitely felt like more of a Thai dish than a Japanese dish. I quite enjoyed it, but I noticed that I was the only person at the table who was eating it.
review contents
Dress
Cost
Items Ordered
Sesame Chicken
Gyu Suji
Nasudengaku
Tonkatsu
Gyoza
Gomaae
related reviews
More reviews in New York, NY
Been here? Want to write your own review of this restaurant?