Your Reviews About the World
MyWorldReviews.com
Let the world know what you think
Tuk Tuk
New York, New York, United States
4906 Vernon Blvd
New York, New York, United States
11101
718-472-5598
www.tuktukny.com
View Map
Overall Experience:
7 / 10
Date Visited:
Friday, April 2, 2010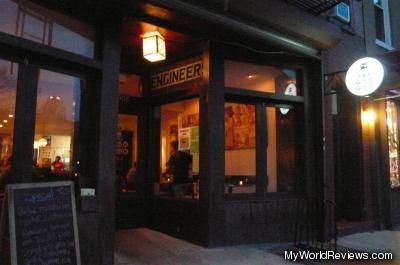 Tuk Tuk
Tuk Tuk is a Thai restaurant located in Long Island City in Queens. It is very close to the 7 subway train, so it is easy to get to from Manhattan. It is similar to most Thai restaurants in Manhattan in terms of the food, the price, and the casual modern decor.
Dress
Casual
Cost
Most entrees are $10-$12.
Reservations
The restaurant is pretty big. There were many open tables on a Friday evening.
Items Ordered
Shrimp Papaya Salad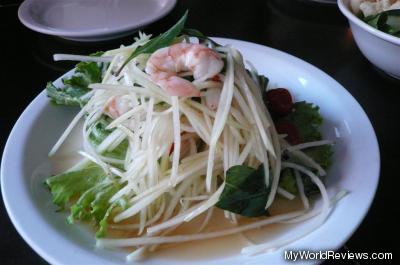 Shrimp Papaya Salad
Spicy "Vietnamese style" papaya salad with basil leaves and cherry tomato in a chili lime vinaigrette.
I didn't think the salad was very spicy. The papaya was tasteless, and the only taste in the salad came from the lime vinaigrette. The salad was ok, but it was not what I was expecting.
Special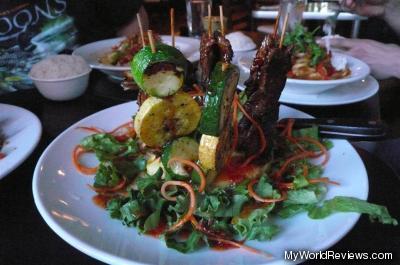 Special
Grilled marinated beef, eggplant, zucchini and Portabella mushroom with Thai chili paste. Served with green salad, grilled pineapple, and Jasmine rice.
I ordered the special thinking it must be really good, but I found the dish somewhat disappointing. It looked amazing, but it wasn't anything special. I found the beef tough. The sauce was nice, and just a little bit spicy. There was a nice combination of grilled vegetables and the grilled pineapple was nice and sweet.
Massaman Curry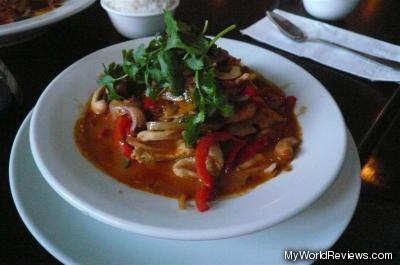 Massaman Curry
Medium spicy with potato, cashews, bell pepper, and onion in coconut massaman curry. Topped with fried red onion.
The curry was great. It had lots of veggies and a really nice strong flavor. It said medium spice on the menu, and it was a reasonably spicy dish.
review contents
Dress
Cost
Reservations
Items Ordered
Shrimp Papaya Salad
Special
Massaman Curry
related reviews
More reviews in New York, NY
Been here? Want to write your own review of this restaurant?