Your Reviews About the World
MyWorldReviews.com
Let the world know what you think
Tribeca Taco Truck
New York, New York, United States
Spring St & Broadway
New York, New York, United States
10012
View Map
Overall Experience:
6 / 10
Date Visited:
Saturday, April 16, 2011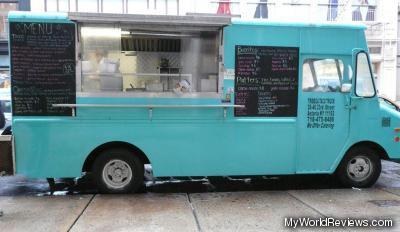 Tribeca Taco Truck
The Tribeca Taco Truck is a street food truck that parks on Broadway between Spring and Prince in the SoHo area of NYC on weekends. The truck offers mexican platters and burittos available to eat on the go. The area is quite popular for shopping, but there aren't any nearby places to sit and eat.
Cost
Prices are quite reasonable. For $6 you get a large burrito.
Items Ordered
Carne Asada Burrito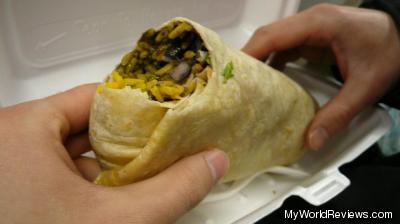 Carne Asada Burrito
rice, beans, lettuce, tomato, cheese, and your choice of sauce
The burrito was quite large, although it was mostly rice and beans. The rice was actually a flavorful yellow rice. The meat was a bit tough but nicely spiced. The picante rojo sauce, which had 3 chilli peppers on the sign, was super hot. The burrito was really good, but not the best I've had.
review contents
Cost
Items Ordered
Carne Asada Burrito
related reviews
More reviews in New York, NY
Been here? Want to write your own review of this restaurant?