Your Reviews About the World
MyWorldReviews.com
Let the world know what you think
Trafalgar Tours Optional Excursion: Dinner Cruise
Cairo, Cairo, Egypt
Overall Experience:
2 / 10
Start Date:
Wednesday, February 27, 2008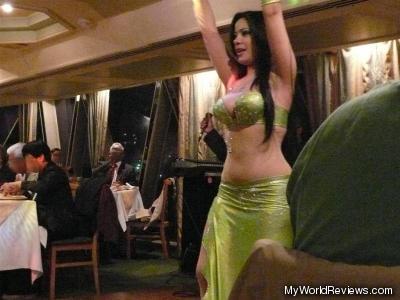 The belly dancer show on the boat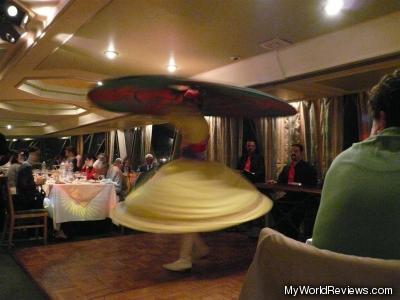 The whirling dirvish show
One of the optional excursions that we had the option to take on Trafalgar Tours Best of Egypt Tour was a dinner cruise. The cruise offered dinner on the boat, which is why we initially decided to take the optional excursion. We were worried we wouldn't find anywhere to eat in Cairo that offered acceptable food, but that certainly wasn't the case. The annex at the Ramses Hilton (where we were staying) had a number of americanized food choices.
The cruise boat also had a belly dancing and whirling dirvish show, but we had already seen those on the cruise boat that we took down the Nile from Luxor to Aswan, so seeing them again wasn't anything special.
For this excursion, we left the hotel lobby at 7:00pm, and boarded the cruise boat at 8:00pm. After we ordered our drinks (which were not included in the $44 USD cost of the excursion), the buffet dinner was available. When each food item ran out, it wasn't replenished - don't expect to be able to go back for seconds! The dinner food was of average quality, and very similar to the food we had eaten for four days on the previous cruise. The dessert selection on the boat was quite good.
The boat docked again at 10:00pm, and from there, the Trafalgar representative took us back to the hotel.
If everyone else in your tour group is participating in this optional excursion, it could be fun just to spend some more time with everyone, but otherwise, I would recommend against it. Even if your group does decide to go, it's difficult to socialize for most of the trip, since the music that is played during the dancing performances is quite loud.
Cost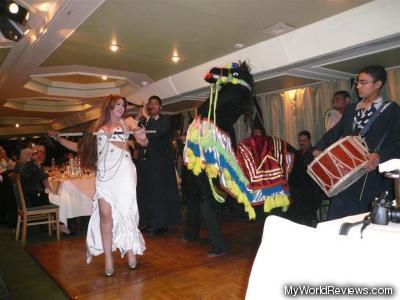 A short musical performance
This optional tour excursion cost $44 USD per person.