Your Reviews About the World
MyWorldReviews.com
Let the world know what you think
Tix 4 Tonight
Las Vegas, Nevada, United States
Las Vegas, Nevada, United States
www.tix4tonight.com
View Map
Overall Experience:
8 / 10
Start Date:
Thursday, October 11, 2007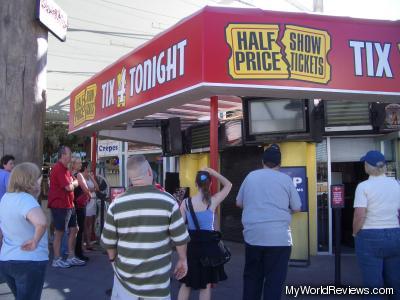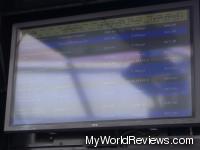 Sample of Available Shows (Outdoor Screen)
Tix 4 Tonight is one of the two half-price ticket vendors located in Las Vegas. (The other one is Tickets2Nite). Tix 4 Tonight has four locations on the Las Vegas Strip - the one pictured here is the location at the Hawaiian Marketplace at the Polo Towers.
The ticket booth gets active around 10:00 am, but tickets aren't available for purchase until 11:00 am. People start lining up around 10:00 am, and looking at the TV screens to decide what to purchase. Tickets for shows and exhibits are available, but vary from day to day.
There are two lines - a "general" line and a VIP line. You can find coupons at various locations on the internet that grant you entrance to the Tix 4 Tonight VIP line. (The VIP coupon cannot be combined with other coupons that give you a discount on their service fees). The VIP line is a good idea, it'll probably save you about an hour of waiting time.
When it is your turn to purchase tickets, you are given vouchers that you then need to exchange at the ticket box office for the show you are seeing. Going early is a good idea so you can get better seats.
If you pay by credit card, there is an additional $1 per ticket service charge. Tix 4 Tonight charges a service fee of $4 per ticket, although there are coupons available that can reduce this by $1 or $2.
If you have tickets from a previous nights show that you purchased from Tix 4 Tonight, you can hand them in (along with a coupon that you received when you got the tickets) for VIP line entrance, and a $2 reduction on the service fee.
The big mainstream Las Vegas shows (Cirque du Soleil) aren't often available. The only Cirque show I saw available was Mystere, and it was only 25% off. Some tickets are available for purchase today and use for tomorrow (Like Star Trek: Experience tickets).
If you're waiting in line, Tix 4 Tonight offers you umbrellas to use temporarily while you're waiting (to block the hot sun). They also come around occasionally and offer you water. If it is hot outside, the VIP area at the Fashion Show Mall is indoors (so if you have a VIP coupon, you can wait where it's air conditioned!)
Tix4Tonight also offers half price meals, but when we looked into it, it didn't appear to be good value - only certain menu items fell under the half price category. If this is something you're interested in, the staff are quite knowledgeable.