Your Reviews About the World
MyWorldReviews.com
Let the world know what you think
Thompson Cafe
New York, New York, United States
68 Thompson St.
New York, New York, United States
10012
212-334-0177
View Map
Overall Experience:
5 / 10
Date Visited:
Wednesday, November 26, 2008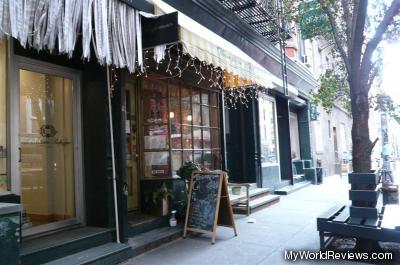 Thompson Cafe in SoHo
Thompson Cafe is a small cute cafe in SoHo. They have a selection of baked goods, sandwiches, soups, and salads. The cafe is very small and only has about 5 tables, but offers a quiet and cozy atmosphere. Their food is pretty average. Their prices are a bit high, but pretty typical for this area.
Dress
Casual - anything is fine.
Cost
A bit pricey. A cup of soup was $5.50 plus tax.
Service
The service is cafe style. You place your order at the counter, take your food and sit wherever you can find a seat. It wasn't very busy, so even with only a few tables, there were plenty of open seats.
Items Ordered
Mediterranean Zucchini and Eggplant Soup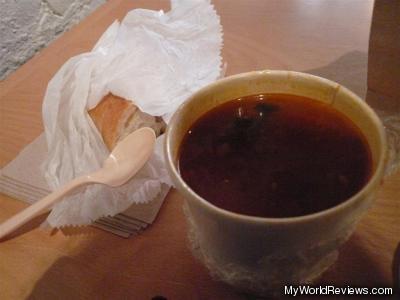 Mediterranean Zucchini and Eggplant Soup
The soup was a tomato broth with vegetable chunks (mostly zucchini and eggplant). It was delicious, and I didn't find it to be too salty (like most soups ordered at restaurants). It was comfort food on a cold day. The soup came with a small piece of white baguette. The bread didn't taste very fresh, and was kind of hard.
review contents
Dress
Cost
Service
Items Ordered
Mediterranean Zucchini and Eggplant Soup
related reviews
More reviews in New York, NY
Been here? Want to write your own review of this restaurant?