Your Reviews About the World
MyWorldReviews.com
Let the world know what you think
The Water Club
New York, New York, United States
The East River at 30th
New York, New York, United States
10016
212-683-3333
www.thewaterclub.com
View Map
Overall Experience:
6 / 10
Date Visited:
Saturday, June 20, 2009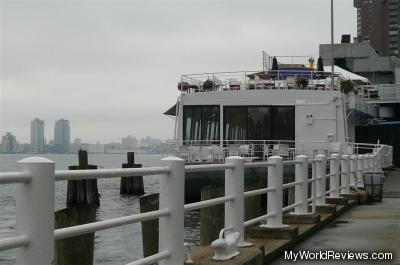 The Water Club
Cuisine:
American and Seafood
The Water Club restaurant is located on a docked boat on the East River. While the boat seemed very sturdy, at one point during the dinner, a particularly large wave made the boat shake for a bit. The dining room is a bit fancy and has large windows looking out on the river. Unfortunately, from this location you don't get much of a view except of a barren coast on Brooklyn and some of the nearby apartment buildings in Manhattan.
The restaurant presents itself as fine dining - recommending jackets for patrons, but I didn't find they offered the kind of quality of food and service I have come to expect from fine dining restaurants. I thought the food varied from very good to disappointing. However, the prices were reasonable for a fancy Manhattan restaurant. I was also surprised by the number of children and families there were for a restaurant that didn't seem to be a family restaurant. Perhaps this was because a lot of people were celebrating graduations today?
Being on the East river, this place is not easy to get to by public transportation. It is quite a hike from the nearest subway stop at 33rd and Park Ave. It is also a bit awkward to walk to since it's on the other side of the FDR and seems to be right at an exit ramp.
Dress
Business attire - jackets recommended. Most men wore jackets, but some only had dress shirts. I didn't see any jeans.
Cost
Appetizers were around $10 with entrees around $30.
Service
The service was acceptable - the waiters were attentive and polite. There seemed to be a bit more table side presentation than usual at a restaurant, which was a bit of fun.
Reservations
They do take reservations. Early in the evening the restaurant was mostly empty, but it was full by 6:30.
Items Ordered
Bread Basket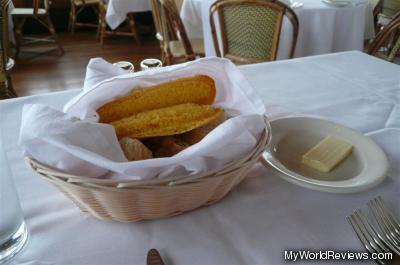 Bread Basket
The bread basket had a nice variety of bread - some delicious warm corn bread, a buttery biscuit, raisin caraway bread, and some plain white baguette. I was quite pleased by the selection.
Prix Fixe Menu
A selection of one of three appetizers, one of three entrees, and one of three desserts.
The restaurant was continuing to offer their restaurant week three course menu. I thought the choices on this menu sounded better than some of the entrees, and it was a pretty good deal.
Herb Roasted Tomato Soup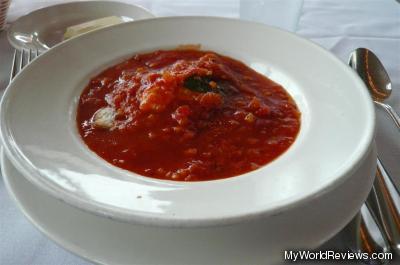 Herb Roasted Tomato Soup
baguette crisps, fresh mozzarella fondue
This soup had a bit of table presentation. The brought out a bowl with a slice of baguette and slightly melted cheese on it. Then the waiter poured the hot soup over it. The soup was pretty good. It was a chunky tomato soup. It didn't have much in it besides tomato, and had a fresh tomato taste.
Seasonal Green Salad
Seasonal Green Salad
young greens tossed with a sherry-shallot vinaigrette
The salad was just what the description said, but I was a bit put off by the title. There wasn't much seasonal about it. It was just the kind of baby green package mix I buy at any grocery store with some dressing mixed in. I did like the dressing though.
Pan Seared Salmon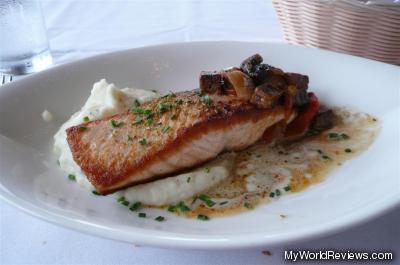 Pan Seared Salmon
potato and cauliflower puree, sweet and sour roasted eggplant, fresh fennel pollen
This dish was excellent - the best dish that we ordered. The salmon was cooked perfectly with a bit of a sweet crispiness to it. The sauce went really well with the fish. The potato and cauliflower puree was also delicious. I've never had the combination before, and I just thought it was perfect. I also really liked the eggplant. Everything went surprisingly well together, even with all the different flavors.
Panko Crusted Chicken Breast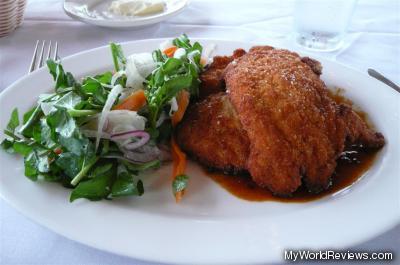 Panko Crusted Chicken Breast
marinated in buttermilk & spices, crisp vegetable slaw, soy & black pepper sauce
This was a disappointing dish. It turned out to just be a chicken schnitzel. I found it to be quite greasy and not particularly tasty. The side vegetable slaw was ok... it was quite acidic and the greens selection wasn't ideal. The dish was missing something - possibly potato.
Luscious Chocolate Layer Cake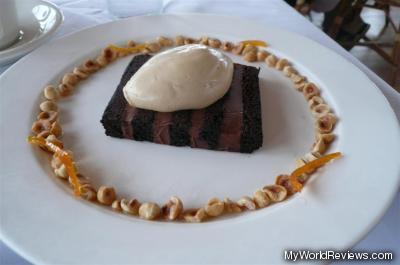 Luscious Chocolate Layer Cake
mocha cream, candied orange peel, hazelnuts
The cream on this cake was strange and mostly tasteless. The cake was very dense and fudgey. The hazelnuts went really well with the cake. The orange peel was all kept off to the side, which was good for me (since I don't like mixing fruit and chocolate). There wasn't much of it, anyway.
Golden Delicious Apple Tart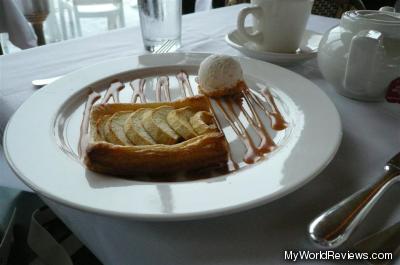 Golden Delicious Apple Tart
vanilla ice cream, vanilla bean caramel sauce
This tart was more like a pastry with some apple slices on top. It was pretty good. The caramel sauce was very sweet, but went nicely with the apples. There was a small scoop of vanilla ice cream - it was a typical vanilla ice cream.
review contents
Dress
Cost
Service
Reservations
Items Ordered
Bread Basket
Prix Fixe Menu
Herb Roasted Tomato Soup
Seasonal Green Salad
Pan Seared Salmon
Panko Crusted Chicken Breast
Luscious Chocolate Layer Cake
Golden Delicious Apple Tart
related reviews
More reviews in New York, NY
Been here? Want to write your own review of this restaurant?