Your Reviews About the World
MyWorldReviews.com
Let the world know what you think
The Pond at Bryant Park
New York, New York, United States
Bryant Park
New York, New York, United States
thepondatbryantpark.com
View Map
Overall Experience:
8 / 10
Date Visited:
Sunday, November 2, 2008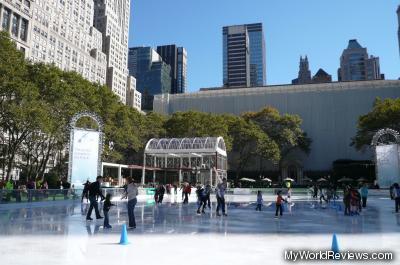 Bryant Park Skating Rink
The Pond at Bryant Park is a skating rink that's open to the public. The rink is open from October 24, 2008 through January 25, 2009. It usually opens at 8am, and closes at 10pm (Sunday -> Thursday), or midnight (Friday and Saturday).
Once you get to Bryant Park, skaters must enter a skating pavilion closest to the corner of 40th street and 6th avenue. Someone at the door will direct visitors to a payment desk. If you have your own skates, you get a wristband (for free), and you can then sit at one of the seats to put on your skates. Skaters can then exit the pavilion, and go to the skating rink. The rink is pretty small, but there's still enough room to skate around and have an enjoyable time.
The rink occasionally closes for events, such as skating shows. The rink is also closed during bad or warm weather. You can check the website for the current status of the rink. Free skating lessons are also available at specific times.
Cost
If you have your own skates and a lock, this is a completely free skating experience. Otherwise, skate rentals are $12. You can check a bag for $7 or $10 (depending on the size), or purchase a lock (that you can re-use) for $9. If you have your own combination lock, the lockers are free for your use.
Estimated Visiting Time
You can spend as much (or as little) time skating around the rink as you like.
review contents
Cost
Estimated Visiting Time
related reviews
More reviews in New York, NY
Been here? Want to write your own review of this attraction?