Your Reviews About the World
MyWorldReviews.com
Let the world know what you think
The Palm Court
New York, New York, United States
768 5th Avenue
New York, New York, United States
10019
212-546-5300
theplaza.com/dining/palmcourt
View Map
Overall Experience:
6 / 10
Date Visited:
Sunday, September 2, 2012
The Palm Court
The Palm Court is a restaurant in The Plaza Hotel in NYC. The restaurant is a large open area just off the main entrance to the hotel. We visited the Palm Court for afternoon tea. The food wasn't all that great, but the building is so iconic it felt like one of those things we should do. The large room the restaurant is in is quite beautiful - there are huge columns, high ceilings, and palm trees. It feels very open.
Dress
The website suggested business casual, but at least when we visited (around 3pm on a Sunday) the restaurant had a lot of children who were dressed very casually.
Cost
Most teas are $50. There is one dessert option that is $60.
Reservations
Reservations are strongly recommended.
Items Ordered
Tea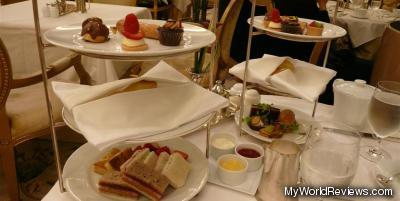 Tea
The New Yorker - five types of small sandwiches (Cucumber, radish, green herbs; smoked salmon, endive; roquefort, shaved red grapes, watercress; prosciutto, mozzarella, pesto; roast beef, horseradish). Pastries: cookies, canoli, cupcake, cheesecake, lemon tea cake, profiteroles.
Eloise Tea - four types of small sandwiches (grilled cheese; cucumber, butter; peanut butter & jelly; strawberry and cream cheese). Pastries: Cookies, cupcakes, pink jello, shortbread cookies, strawberries. Each tea is also served with scones, double devonshire cream, preserves.
Four types of tea 'food' are available, with 13 types of tea to choose. The sandwiches and pastries were all just OK. None of them were particularly good. The presentation was cute, and the scones and cream was tasty, but otherwise the sandwiches and desserts were mediocre.
They were fairly accommodating in allowing me to change the dessert plate in the Eloise tea for the dessert plate of the New Yorker. We were also brought a second pot of tea without having to ask for it. It was a fairly filling meal. This was all we had for lunch, and we were unable to finish everything on the plates.
review contents
Dress
Cost
Reservations
Items Ordered
Tea
related reviews
More reviews in New York, NY
Been here? Want to write your own review of this restaurant?