Your Reviews About the World
MyWorldReviews.com
Let the world know what you think
The National
New York, New York, United States
557 Lexington Ave. (at 50th St)
New York, New York, United States
10022
212-715-2400
thenationalnyc.com
View Map
Overall Experience:
6 / 10
Date Visited:
Saturday, September 24, 2011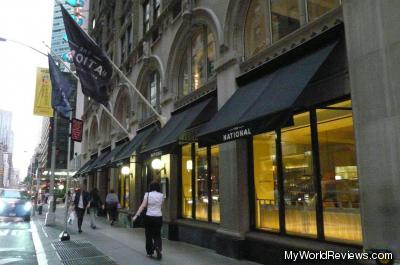 The National
The National is a slightly upscale American restaurant located in Midtown, NYC. The restaurant decor was mediocre, and unfortunately the chairs were quite uncomfortable. There were a few nice chairs at tables near the window (pictured on their website), but the rest of the chairs were very simple and hard wood chairs. The food was all pretty good, but also expensive.
Dress
It's a slightly upscale place - 'smart casual' attire is appropriate.
Cost
Entrees ranged from $20-$36, with sides between $6-$9 each. Appetizers were around $15.
Reservations
Reservations are probably a good idea. It was pretty empty when we arrived around 7pm on a Saturday, but got busier a bit later.
Items Ordered
Beet Salad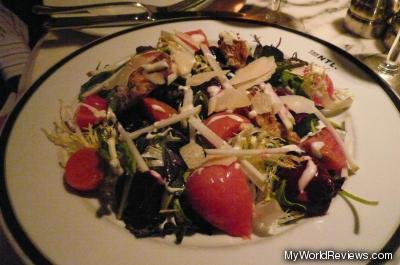 Beet Salad
Crispy Artichokes, Truffle Cream, Apple
The beet salad was mostly a typical lettuce salad with a few beets added in for color. The crispy artichokes were surprisingly good - they were nicely seasoned and made an interesting alternative to traditional croutons. Otherwise, it was a pretty typical salad.
Pork Chop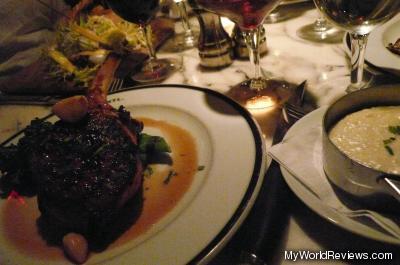 Pork Chop
Broccolini, Cheese Grits, Candied Garlic
The best part about the pork chop was the cheese grits. They were very creamy with lots of cheese. The pork chop was a pretty typical pork chop served with a bit of broccolini underneath. The pork chop also could have been seasoned more - it was nicely grilled, but was lacking any real flavor.
Half Roasted Chicken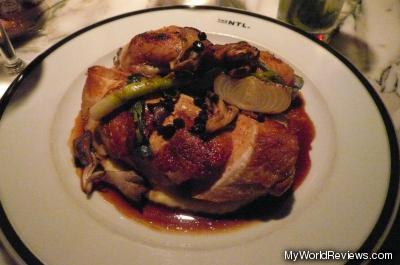 Half Roasted Chicken
Creamy Polenta, Cippolini Onion, Maitake
The half roasted chicken was a lot of chicken on one plate. It was served with a small onion and one or two small mushrooms. The chicken was quite moist and was served with a slightly sweet sauce, but it didn't have quite as much flavor as I would have liked. The polenta was nice and creamy.
Sweet Corn Souffle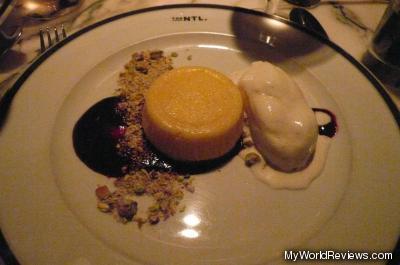 Sweet Corn Souffle
Blueberries, Creme Fraiche Gelato, Spiced Pistachios
The sweet corn souffle was pretty good. It was light and wasn't very sweet, which was just what I was looking for. It went very nicely with the blueberries and pistachios. The ice cream tasted a little bit like cheese cake in ice cream form, and was a bit weird.
Chocolate Malted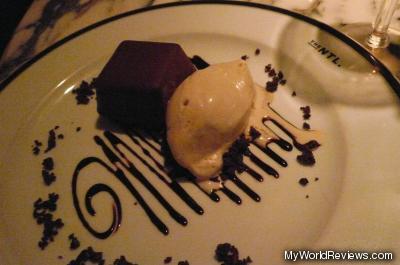 Chocolate Malted
Cocoa Nibs, Malt, Gelato, Devil's Food Cake
The 'chocolate malted' dessert was a small square chocolate cake served with a scoop of gelato on the side. It was a pretty chocolatey dessert, but it felt like it was missing something. Perhaps the chocolate cake was too dry.
review contents
Dress
Cost
Reservations
Items Ordered
Beet Salad
Pork Chop
Half Roasted Chicken
Sweet Corn Souffle
Chocolate Malted
related reviews
More reviews in New York, NY
Been here? Want to write your own review of this restaurant?