Your Reviews About the World
MyWorldReviews.com
Let the world know what you think
The Mosser
San Francisco, California, United States
54 4th Street
San Francisco, California, United States
94103
415-986-4400
themosser.com
View Map
Overall Experience:
3 / 10
Check-In Date:
Monday, July 16, 2012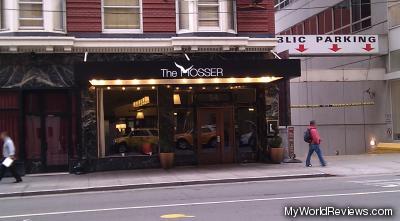 The Mosser Hotel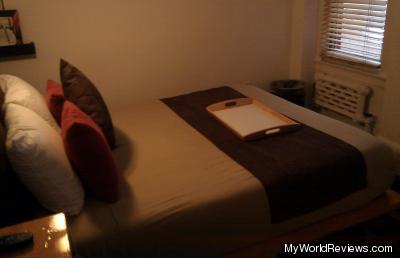 A Deluxe Queen room at The Mosser
The Mosser is a hotel in downtown San Francisco. I would give it a 2.5-3 star rating. Many of the rooms do not have bathrooms, so there are men/women's bathrooms on each floor, in addition to individual shower rooms that are shared among guests on the floor.
The deluxe queen room that I was staying in did have a private bathroom, but both the bathroom and the room itself were very small. I live in New York City, so I'm used to small rooms, but the rooms at The Mosser were special. The bed just barely fit in the room. There was no desk, and no place to put my bag other than the tiny space in the corner not occupied by the bed. I saw a number of other guests opening their suitcases in the hallway when they needed to get items from their bags - all the rooms must have been small. It felt like the building may have been a former college dorm room or hostel - especially with the shared bathrooms on each floor. My room was also quite dark, despite having a small window to the outside. The view out the window was just the brick wall of another building - it didn't let in much light.
The private bathroom was also very tiny, and could have been better maintained. The sink was one of the smallest I have used (and again, in NYC some restaurants just build a bathroom into a closet!), and a tiny glass shelf positioned just above the sink made it difficult to use to wash your face or brush your teeth. The bathtub had numerous scratch marks and holes in the enamel which made it look run down.
The hotel offered coffee, tea, and small muffins for breakfast each morning. The muffins weren't very good, but there were a lot of small cafes nearby that offered bagels or other breakfast items for less than $3.
Location
The Mosser Hotel was located just south of Market Street on 4th street. Market Street is the main shopping area in San Francisco so you had everything just a short walk away from the hotel. The location was quite good. There were lots of shops and restaurants just a short walk away from the hotel.
Cost
The deluxe queen room cost about $190/night. Rates probably vary significantly depending on the time of year, so check the hotel's website.
review contents
Location
Cost
related reviews
More reviews in San Francisco, CA
Been here? Want to write your own review of this hotel?