Your Reviews About the World
MyWorldReviews.com
Let the world know what you think
The Morgan Library and Museum
New York, New York, United States
225 Madison Ave
New York, New York, United States
10016
(212) 685-0008
www.themorgan.org
View Map
Overall Experience:
7 / 10
Date Visited:
Saturday, September 24, 2011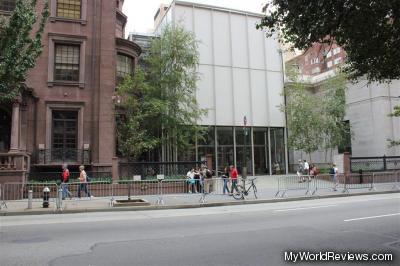 The Morgan Library and Museum Entrance
The Morgan Library and Museum contains the personal collections of JP Morgan that he amassed over his lifetime. The museum is located in JP Morgan's historic library and study, as well as several newer buildings. JP Morgan's building is beautiful on it's own, and the collection it houses is also very impressive. The Morgan is the only library to contain 3 Gutenberg Bibles (one of which was on display). The museum also has some rotating exhibits of art and literature. When we visited, the only tour on Saturday was at 2pm. The tour guide was very knowledgeable and gave a good overview of the highlights in the museum.
Visiting
Entrance costs $15 for adults. No shopping bags are allowed in the museum, but baggage check is provided for free. The Morgan cafe offers a light lunch for $10-$15 a plate.
review contents
Visiting
related reviews
More reviews in New York, NY
Been here? Want to write your own review of this attraction?