Your Reviews About the World
MyWorldReviews.com
Let the world know what you think
The Intrepid Sea, Air, and Space Museum
New York, New York, United States
Intrepid Museum
New York, New York, United States
intrepidmuseum.org
View Map
Overall Experience:
6 / 10
Date Visited:
Saturday, July 11, 2009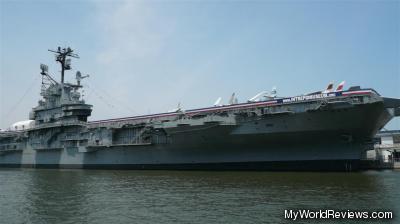 Intrepid Museum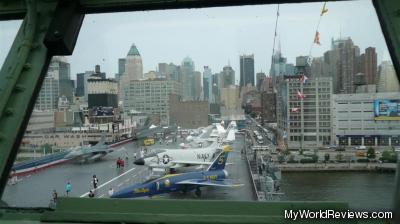 A view of the upper deck and Midtown from the ship's bridge
The Intrepid Sea, Air, and Space Museum is located in Manhattan, on the Hudson at 46th street. Visitors can tour The Intrepid, which is a retired aircraft carrier, the Growler submarine, walk through a Concorde plane, and a number of other planes. The museum is a bit on the expensive side, but there are some neat things to see.
After waiting in line outside, you go through a metal detector (is that really necessary?), and then enter another line to pay for admission. Outside the Intrepid, visitors can enter the Growler Submarine, or walk through the Concorde. When we visited, the line to the Growler submarine was too long, so we skipped out on that. The Concorde was neat to walk through, but there was no information about it anywhere. Even a print-out of the Wikipedia page would have made the Concorde walk-through much more enjoyable.
The Intrepid has three levels available for touring, as well as the top deck (where many of the planes are) and the navigation bridge. Most of the lower levels are mostly closed off. There are only a couple small areas that are open to tourists.
On the Hangar Deck level, there is an area called the "Exploreum" which has a number of exhibits targeted towards children. The other half of the Hangar Deck has more adult-oriented exhibits that talk about the history of The Intrepid and provides some general information about how aircraft carriers work.
Getting There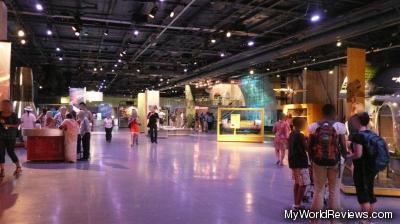 The Exploreum Exhibits
The Intrepid Museum is all the way on the Hudson, so it's a bit of a walk from the subway (about 15 minutes). Take any subway to Times Square, and walk west from there towards the Hudson. From there, it's just a couple short blocks north to the entrance. You can also take the M42 bus, but it's probably not necessary.
Estimated Visiting Time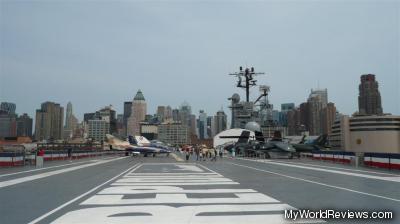 The upper deck with a view of Midtown
We spent 2 hours at the museum, and didn't have time to wait in the 45 minute line for the submarine. If you want to see everything, you should allow at least 3 hours. One of the volunteers on the Hanger Deck level mentioned there might be a tour, but nothing materialized after we waited around for a bit, so we decided our time would be better spent touring by ourselves.
Cost
Admission to the Intrepid museum is quite expensive - $19.50 per person! There is also a $1.50 extra charge that is waived if you purchase tickets online. Purchasing tickets over the internet also lets you skip the first line (before the metal detectors) - definitely something you want to do.
review contents
Getting There
Estimated Visiting Time
Cost
related reviews
More reviews in New York, NY
Been here? Want to write your own review of this attraction?