Your Reviews About the World
MyWorldReviews.com
Let the world know what you think
The House
New York, New York, United States
121 E 17th St
New York, New York, United States
10003
(212) 353-2121
www.thehousenyc.com
View Map
Overall Experience:
7 / 10
Date Visited:
Saturday, August 3, 2013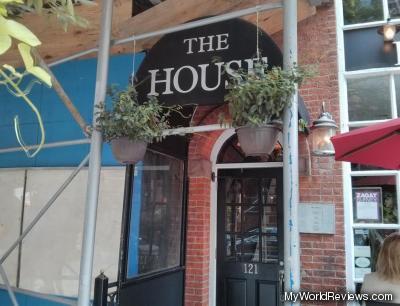 The House
The House is an 1850's carriage house that has been converted into a restaurant. The seating is on three levels which gives a somewhat intimate setting even for a fairly large restaurant. The decor was cute, but not as homely as we thought it would be.
Dress
Business casual - it is a slightly upscale restaurant
Cost
Most entrees were $25-$30
Reservations
Reservations are highly recommended and accepted online. We arrived early and were seated upstairs when all tables were empty. We asked for the cute little window seat but were told that table was reserved. I would recommend asking for the window seat when you make your reservation.
Service
There was nothing noteworthy about our service. The couple who were seated at the nice table by the window tried to order a bottle of wine, but their selection was not available. They picked another selection - also not available. Fortunately their 3rd try was in stock. It seemed weird that the restaurant would have so few wine selections available without updating their menu.
Items Ordered
Chilled Local Corn Soup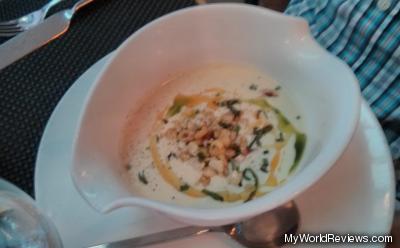 Chilled Local Corn Soup
chili oil, hazelnuts, mint
This was by far the best item we had at this restaurant. The soup was very creamy and sweet. It tasted like it was mostly cream and blended up corn, but with a few whole kernels mixed in.
Heirloom Tomato and Charred Watermelon Salad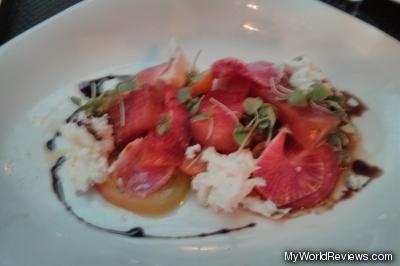 Heirloom Tomato and Charred Watermelon Salad
buffalo mozzarella, watermelon radish, micro basil, aged balsamic
This was a nice fresh tasting summer salad. The balsamic and watermelon complemented each other nicely. The tomatoes were fresh, but weren't the best I've had.
The House Lasagna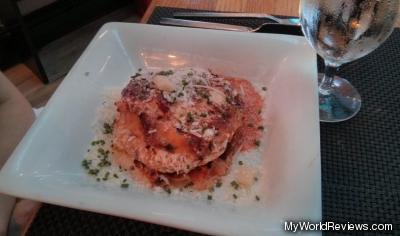 The House Lasagna
wild boar, pancetta, piedmontese beef, thyme
The lasagna was a nice twist on the usual lasagna. There were a few small solid pieces of meat, not just typical ground beef. There was also a crispy layer on top and in the middle of the lasagna which made it extra tasty.
Hudson Valley Pastured Chicken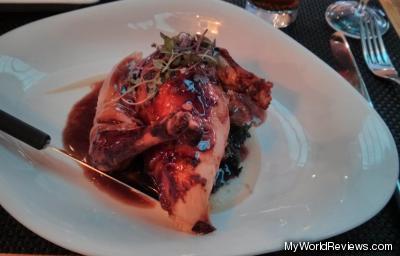 Hudson Valley Pastured Chicken
roasted leek puree, braised greens, oloroso sherry
The sauce combined with the pureed leeks was creamy and delicious. The sauce was the highlight of this dish. The chicken was nice and moist. The braised greens were some kind of green leafy vegetable, but I couldn't tell exactly what. They were pretty small - this dish was mostly just two plain pieces of chicken.
The House Sundae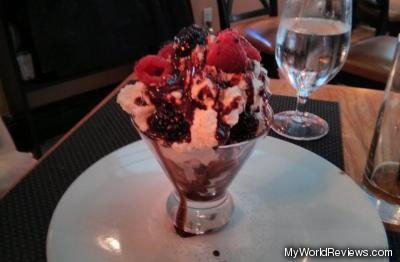 The House Sundae
toasted almond ice cream, double chocolate cookies, chocolate sauce, and sweet cream
The sundae was topped with a few fresh berries. The ice cream had a bit of a nutty flavor. The cookies were hard - more like a chocolate biscotti. It was a nicely sized dessert to share between two people.
review contents
Dress
Cost
Reservations
Service
Items Ordered
Chilled Local Corn Soup
Heirloom Tomato and Charred Watermelon Salad
The House Lasagna
Hudson Valley Pastured Chicken
The House Sundae
related reviews
More reviews in New York, NY
Been here? Want to write your own review of this restaurant?