Your Reviews About the World
MyWorldReviews.com
Let the world know what you think
The Halal Guys
New York, New York, United States
53rd St & 6th Ave
New York, New York, United States
10079
View Map
Overall Experience:
6 / 10
Date Visited:
Saturday, April 9, 2011
The Halal Guys
There are many halal carts in NYC, but this halal cart is well known for being one of the best. While they're portions were large, and their hot sauce is super hot, I didn't think the taste or quality of meat was any different from every other halal cart in NYC. The cart is located on the south east corner near a small plaza with a ledge that's perfect for sitting on.
Items Ordered
Chicken & Rice Platter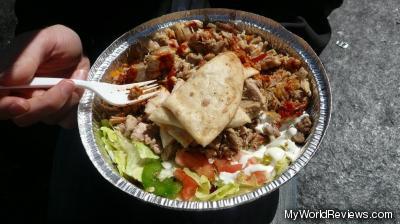 Chicken and Rice Platter
The platter consists of grilled onion and chicken pieces on rice, with some lettuce and maybe a tomato on the side, and topped with two quarters of a pita. The sauces are available on the side so you can put as much as you like. The sauces were the standard white sauce and hot sauce. Their hot sauce is a bit spicier than other carts, although it has the same slightly sour taste to it. I find the chicken and rice are mostly bland without the sauce. The hot sauce gives it an excellent taste that I find myself craving every once in a while.
review contents
Items Ordered
Chicken & Rice Platter
related reviews
More reviews in New York, NY
Been here? Want to write your own review of this restaurant?