Your Reviews About the World
MyWorldReviews.com
Let the world know what you think
The Fat Radish
New York, New York, United States
17 Orchard Street
New York, New York, United States
10002
212-300-4053
thefatradishnyc.com
View Map
Overall Experience:
7 / 10
Date Visited:
Saturday, June 8, 2013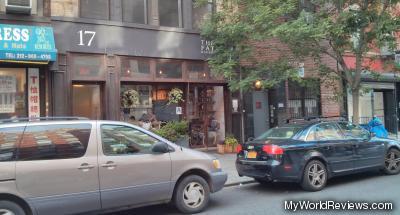 The Fat Radish
The Fat Radish is a nice restaurant in the lower east side, NYC, just north of Canal street. The interior has a nice rustic farm decor with lots of wood, exposed brick walls, and really cramped tables. The restaurant specializes in farm fresh and organic foods.
Dress
Smart Casual
Cost
Entrees are around $25
Reservations
Reservations are recommended, at least on weekends
Items Ordered
Radishes

Radishes
The radishes were a nice touch, especially given the name of the restaurant. As radishes usually are, some were spicy, some were a bit less spicy. They were served with some oil and a light olive tapenade.
Market Lettuces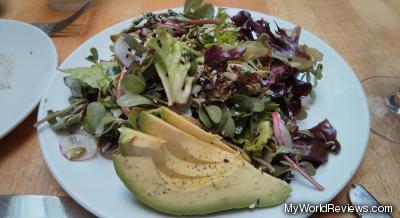 Market Lettuces
Avocado, sesame vinaigrette
The salad was a nice mix of greens and it has a nice sesame dressing. The dressing was very light and mild. I liked the variety of greens; otherwise it wasn't all that special.
Truffle Fries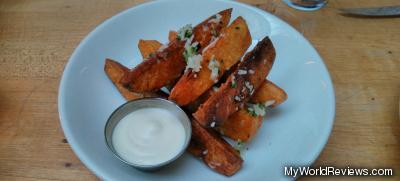 Truffle Fries
The truffle fries were large wedges of potatoes. They were served with a horseradish sauce (that we didn't try since we don't like horseradish). The exterior of the fries were very crispy and had just a hint of truffle flavor.
Beef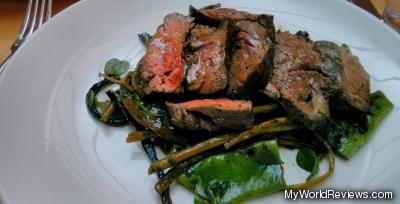 Beef
Roasted bavette of Piedmontese beef, rose Finn potatoes, garlic scales and Romano beans a la plancha
The beef was quite salty, but otherwise tender and tasty. There were a couple small rings of potatoes underneath. They were OK; as were the beans, but the real star of this dish was the beef. I think the beef had a mild glaze that helped enhance its flavor.
Roasted Dutch Morgan Chicken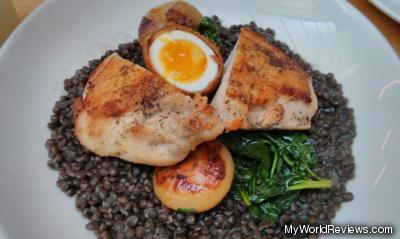 Roasted Dutch Morgan Chicken
Braised lentils, cipollini onions, crispy egg
The chicken was very tender and moist. This was probably the best dish we ordered. The lentils were very flavorful - we found a bit of bacon in with them (that added to the flavor). The onions were lightly caramelized and also good. We've never tried a deep fried egg before - it was good; frying makes everything taste better.
review contents
Dress
Cost
Reservations
Items Ordered
Radishes
Market Lettuces
Truffle Fries
Beef
Roasted Dutch Morgan Chicken
related reviews
More reviews in New York, NY
Been here? Want to write your own review of this restaurant?