Your Reviews About the World
MyWorldReviews.com
Let the world know what you think
The Ethiopian Restaurant
New York, New York, United States
1582 York Avenue
New York, New York, United States
10028
212-717-7311
www.theethiopianrestaurant.com
View Map
Overall Experience:
6 / 10
Date Visited:
Thursday, March 11, 2010
The Ethiopian Restaurant in the Upper East Side
The Ethiopian Restaurant is located in the Upper East Side of Manhattan. This was my first experience with Ethiopian food, and although I thought the food was very good, I wasn't fond of the method of eating. All the food is served on Ethiopian style pancakes called injera. There are no utensils - you eat with your hands by tearing off a piece of the bread and using it to scoop up the food. This was fun and novel at first, but I soon became full and tired of eating the injera. The injera also had a strange taste that didn't seem to go with anything. I also wished I had a spoon so I could just eat some more of the tasty meat sauces.
Dress
Casual
Cost
Starters were around $5, and entrees were around $13.
Reservations
We made reservations by calling the restaurant earlier in the day, but it wasn't necessary. The restaurant was completely empty when we arrived, although a few more tables became occupied shortly after.
Items Ordered
Timatim Fitfit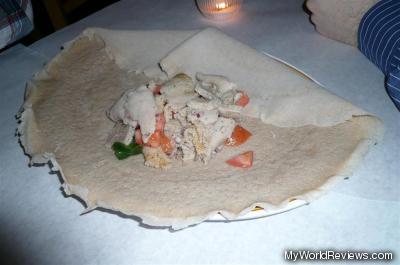 Timatim Fitfit
Tomato, onion and green pepper mixed with injera and seasoned with olive oil and house dressing
This was just like a green salad served on the Ethiopian flat bread. It was good at first, but by the end of the meal, I felt I ate too much of the bread.
Ethiopia Combo, Tibs Wot, and Yedoro Tibs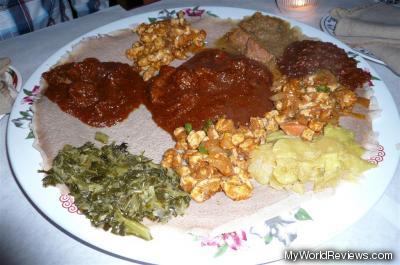 Ethiopia Combo, Tibs Wot, Yedoro Tibs
Ethiopia combo - Our special combination of yebeg alecha, tibs wot, tikel gomen, misr wot and yabesh gomen
Beef - Tibs Wot - Strips of beef cooked in berbere sauce with an assortment of traditional spices.
Chicken - Yedoro Tibs - Chopped, chicken breast chunks smothered in onion and green pepper and sautéed in our house sauce.
Cost:
$13.95 for the combo and beef, $12.95 for the chicken ($40.85 for what is pictured here)
Our group of three ordered to these three items to share. The items were served "family style" - all the dishes were placed on one injera and we received two more on the side for scooping. All the meats were in flavorful sauces. The beef was my favorite, but they were all good. The combo dish, which was one of our three choices, also came with a lentil sauce, mashed potato, carrots, and cabbage and some green vegetable that was also mixed with cabbage. The lentils were pretty good, but the other two vegetables just tasted too much like cabbage. I found the injera had a strong sour taste which didn't really go that well with the food.
review contents
Dress
Cost
Reservations
Items Ordered
Timatim Fitfit
Ethiopia Combo, Tibs Wot, and Yedoro Tibs
related reviews
More reviews in New York, NY
Been here? Want to write your own review of this restaurant?