Your Reviews About the World
MyWorldReviews.com
Let the world know what you think
The Counter
New York, New York, United States
7 Times Square
New York, New York, United States
10036
212-997-6801
thecounterburger.com
View Map
Overall Experience:
7 / 10
Date Visited:
Friday, April 27, 2012
The Counter
The Counter is a chain of make-your-own-burger restaurants in the US. They allow you to pick your meat, bun, sauce, cheese, and toppings from a long list of options. They claim there are over 300,000 different burger combinations available. The burgers were pretty typical, large, and tasty. Their beef burgers are made with all natural hormone and antibiotic free meat.
Dress
Very casual
Cost
$9.95 for a basic (large) 1/3 pound burger
Items Ordered
Fifty Fifty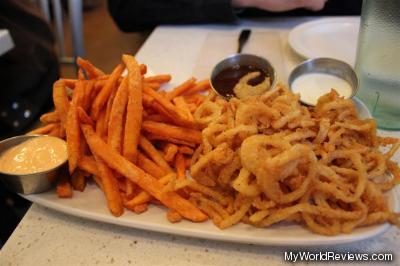 Fifty Fifty
Sweet potato fries & crispy onion strings
The "fifty fifty" option combines two items - fries, sweet potato fries, or onion strings. We chose the sweet potato fries and crispy onion strings. The fries came with three sauces - BBQ sauce for the onion rings, and a mayo and horse radish sauce for the fries (neither of which we liked), but the sweet potato fries and onion crisps were good on their own.
Custom Burger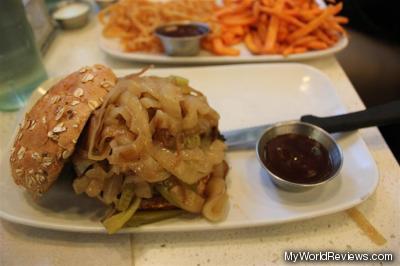 1/3 pound burger
The basic $9.95 burger comes with your choice of meat, your choice of bun, one choice of cheese, four toppings, and a sauce. Additional sauces/toppings or premium toppings are available at extra cost.
I picked a 1/3 beef burger with tillamook cheddar, grilled onions, organic mixed greens, roasted green chilies, and tomatoes with a sweet BBQ sauce on a honey wheat bun. It was a pretty good combination. There were tons of onions on the burger (which was great).
review contents
Dress
Cost
Items Ordered
Fifty Fifty
Custom Burger
related reviews
More reviews in New York, NY
Been here? Want to write your own review of this restaurant?