Your Reviews About the World
MyWorldReviews.com
Let the world know what you think
The Cloisters
New York, New York, United States
99 Margaret Corbin Drive
New York, New York, United States
10040
212-923-3700
www.metmuseum.org/Works_Of_Art/the_cloisters
View Map
Overall Experience:
5 / 10
Date Visited:
Sunday, April 5, 2009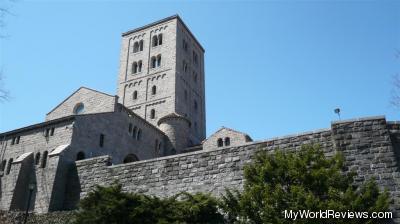 The Cloisters
One of the interior cloisters
The Cloisters is a branch of the Metropolitan Museum of Art. It is a collection of artifacts and pieces of buildings from old cloisters (monasteries) in Europe. Pieces of these monastery's were brought back, and reconstructed into one "super monastery" that contains different fragments from many different monasteries.
The Cloisters also contain many artifacts, artworks, and relics from the years 1000 - 1500AD. Some of these are interesting, but after seeing a few of them, they all started to look the same. Almost all of these artifacts were christian religious in nature.
It's likely that someone with more appreciation for the time period or art would find this more exciting. In our opinion, the neatest part about The Cloisters was the architecture itself. Although only parts of the building were pieces from the original monasteries, The Cloisters were constructed like a big monastery. The architecture varied from Roman to Gothic, but it was all made of stone, and was all very impressive. It was probably worth seeing just to see something different.
The museum offers a couple of guided tours. In the summer season there is also an outdoor garden tour. There is also an audio tour available for an extra fee. One of the tours we went on was very dry, but the highlights tour was quite interesting and gave a good summary of the items in the museum.
Estimated Visiting Time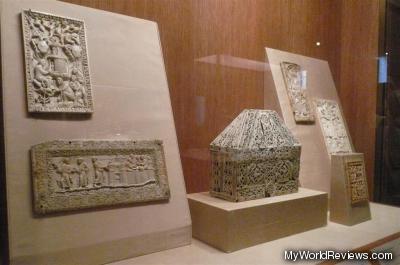 Some of the artwork and artifacts in the museum
We managed to spent approximately four hours at the museum. During this time, we took two tours, and had a snack at the very small cafe. I managed to see everything I wanted to see, and would find it difficult to spend any more time there.
It's also worth noting that in the spring and summertime, nearby Fort Tryon Park has some nice gardens with flowers - you may want to spent around 20 minutes there looking around.
Getting There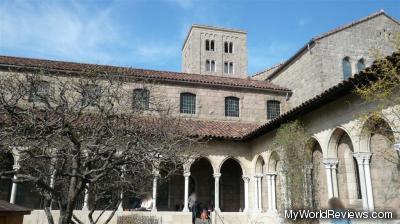 One of the outdoor cloisters with a garden
If you're coming from Manhattan, you probably don't have access to a car. The subway is quite convenient to get here, but it takes a bit of time. Take the A train to 190th street, and take the elevator to the street level (there are three large elevators, and the exit is on top of a big hill). From there, walk north through Fort Tryon Park until you arrive at the entrance to The Cloisters. There is also limited parking available at The Cloisters.
Cost
The suggested donation for adults is $20, for students $10, and for seniors $15. Theoretically this also gets you admission into the main MET museum, but there are a limited number of hours in a day, so it could be tricky to see them both.
review contents
Estimated Visiting Time
Getting There
Cost
related reviews
More reviews in New York, NY
Been here? Want to write your own review of this attraction?