Your Reviews About the World
MyWorldReviews.com
Let the world know what you think
The Broken Egg
Sarasota, Florida, United States
140 Avenida Messina
Sarasota, Florida, United States
941-346-2750
www.thebrokenegg.com
View Map
Overall Experience:
5 / 10
Date Visited:
Monday, February 16, 2009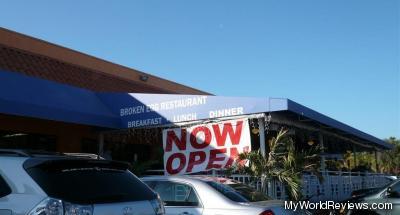 The Broken Egg in Sarasota
The Broken Egg is a restaurant in Sarasota just a short walk away from the beach. They specialize in breakfast/brunch, but are also open for lunch and dinner.
They have a large covered outdoor patio which is great during nice weather. The atmosphere is very casual and family friendly.
Dress
Casual - your beach gear is fine.
Cost
Most breakfast entrees are around $10.
Reservations
I don't know if they take reservations, but when we arrived around 9am on a holiday morning we only waited about 10 minutes before we were called to a table.
Items Ordered
Cappuccino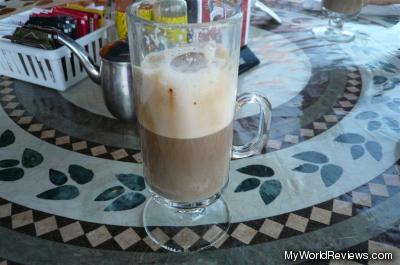 Cappucino
The cappuccino was pretty mediocre. It was a cool day though, so it was nice to have something to keep me warm while we sat on the patio.
Bob's Bear Creek Pancake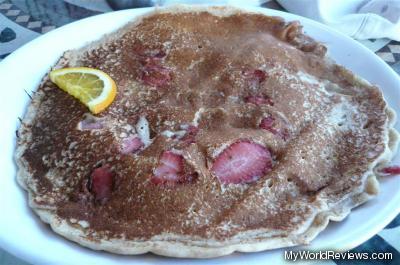 Bob's Bear Creek Pancake with Strawberries
Oatmeal, buttermilk, whole wheat flour
The menu claimed they had 100% maple syrup for $2.50, but when we ordered it we were informed they no longer carried it. I had already had decided on having a pancake though, so I had to make do without syrup. Instead, I ordered the pancake with strawberries. The pancake was thick and very flavorful. The strawberries added a nice bit of sweetness and moisture. The pancake was very large.
French Toast Sampler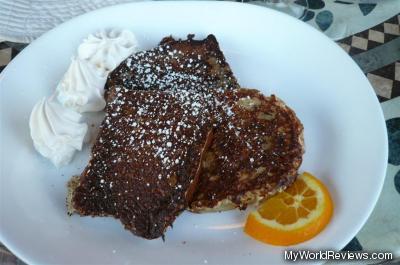 French Toast Sampler
A single slice of Banana nut bread, pumpkin bread, and cinnamon swirl.
These three pieces of french toast were all really delicious! Each one seemed to taste better than the next. It was a great way to improve on french toast.
Incredible Hash Browns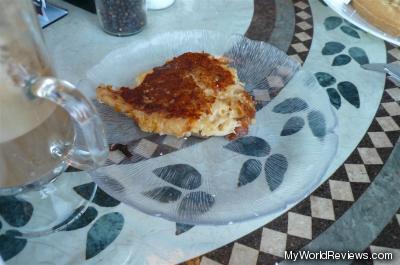 Incredible Hash Browns
(award winning) Made with sour cream & cheddar cheese
With their claim of being award winning, we decided we had to give these a try. We ordered them from the A La Carte menu. It's a bit misleading, since we didn't get hash browns, but just one hash brown. It was great! The cheese and sour cream made it a little bit softer and more delicious.
review contents
Dress
Cost
Reservations
Items Ordered
Cappuccino
Bob's Bear Creek Pancake
French Toast Sampler
Incredible Hash Browns
related reviews
More reviews in Sarasota, FL
Been here? Want to write your own review of this restaurant?