Your Reviews About the World
MyWorldReviews.com
Let the world know what you think
Terrace at Jean Georges
New York, New York, United States
1 Central Park West
New York, New York, United States
10023
212-299-3900
www.jean-georges.com
View Map
Overall Experience:
7 / 10
Date Visited:
Saturday, September 11, 2010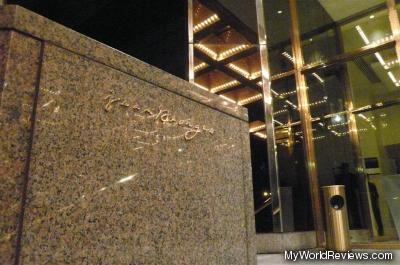 Terrace at Jean Georges
The Terrace at Jean Georges Nougatine restaurant is the more casual outdoor version of the restaurant. The food and service is still upscale. It is a neat place to sit outside under the globe at Columbus circle. Considering it's location, we felt it was nicely separated by bushes from the busy street.
Dress
Jackets are not required, nice jeans and a nice shirt are appropriate for the terrace.
Cost
Entrees range from $20-$30.
Service
The service was on par with other Jean Georges restaurants. Our waiter described each dish as it was served at the table.
Reservations
Reservations are not taken for the Terrace, although if you make a reservation at Nougatine you may request to be seated on the terrace.
Items Ordered
Amuse Bouche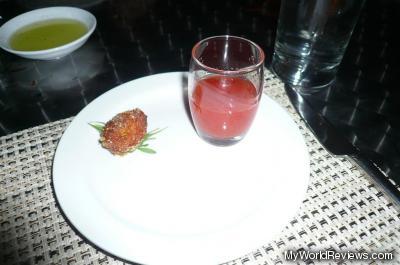 Amuse Bouche
In addition to bread and olive oil, everyone at the table was presented with a small glass of gazpacho soup and a crispy fried cheese ball.
Watermelon Salad
Watermelon Salad
The watermelon and goat cheese salad was a surprisingly good combination. The goat cheese was soft and creamy. There was only a light lemon dressing with a bit of salt.
Heirloom Tomato Salad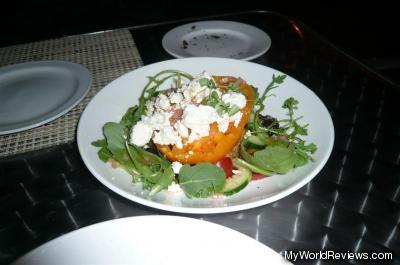 Tomato Salad
The tomato salad was very similar to a Greek salad. It was covered in crumbled feta cheese, and had a few pieces of cucumber and olives. There was a nice variety of tomatoes in different colors and shapes.
Organic Crispy Chicken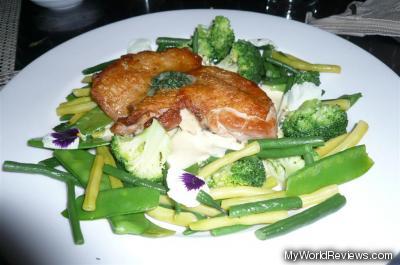 Chicken
The chicken had a nice light crispy coating on it that was full of flavor and kept the chicken very moist. It was sitting on a mustard sauce and surrounded with an assortment of fresh vegetables.
Beef Tenderloin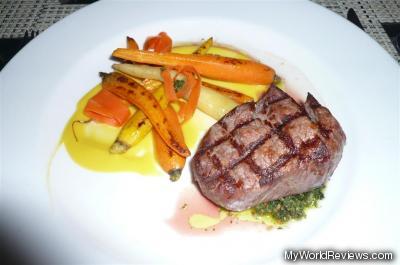 Beef Tenderloin
The beef tenderloin was tender. It came with a nice herb sauce that complimented the beef nicely and gave it a lot of flavor. I didn't really like the sauce that the carrots came in.
review contents
Dress
Cost
Service
Reservations
Items Ordered
Amuse Bouche
Watermelon Salad
Heirloom Tomato Salad
Organic Crispy Chicken
Beef Tenderloin
related reviews
More reviews in New York, NY
Been here? Want to write your own review of this restaurant?