Your Reviews About the World
MyWorldReviews.com
Let the world know what you think
Tenement Museum
New York, New York, United States
108 Orchard St.
New York, New York, United States
212-982-8420
tenement.org
View Map
Overall Experience:
8 / 10
Date Visited:
Saturday, December 6, 2008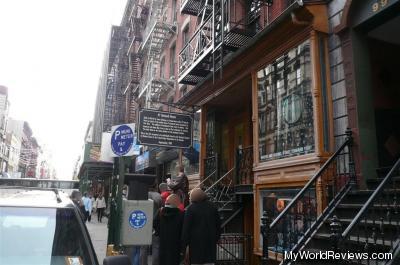 Tenement Museum
The New York City Tenement Museum is a tour organization that operates tours through tenements in the lower east side of Manhattan. There is a visitors center at 108 Orchard Street where all tours start (and end). Visitors must go there first to purchase tickets. There are a variety of different tours available.
While waiting in the visitors center, there is a room near the back where a history channel documentary about tenements in New York City is playing. We watched the documentary for about 20 minutes (while waiting for our tour) and found it quite interesting. When we started our tour, we went into one of the buildings that was mentioned in the documentary. That was neat.
Overall, I found the tour to be fairly interesting. Our guide tried to engage the group (which had about 25 people) by asking us "morality" questions, and tried to get our thoughts about what life would have been like back in the late 1800s.
Our tour took us through several apartments in the tenement, some of which were restored. It was really interesting to see. The tour guide talked about the clothing manufacturing industry, which was a major industry during that period in the lower east side, and about the lives of the people who lived in the apartments we visited. It was interesting to see inside the tenements and to learn about their history.
Pictures were not allowed on the tour.
Cost
The cost of tours is $17 for adults and $13 for students and seniors.
Estimated Visiting Time
The tour lasts 1 hour. Different tours start every 15 minutes. Several of the tours were sold out when we visited, so we had to wait a bit for the next available tour.
review contents
Cost
Estimated Visiting Time
related reviews
More reviews in New York, NY
Been here? Want to write your own review of this attraction?