Your Reviews About the World
MyWorldReviews.com
Let the world know what you think
Tasty Cafe & Catering
New York, New York, United States
126 Madison Ave
New York, New York, United States
10016
212-447-9955
www.tastyny.com
View Map
Overall Experience:
6 / 10
Date Visited:
Wednesday, April 2, 2008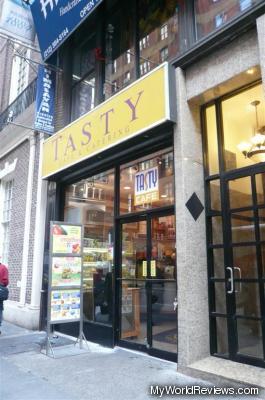 Tasty Cafe & Catering is a small cafe located in mid-town Manhattan. They offer various bagels, sandwiches, baked goods, and salads. There is a cafeteria style counter where you make your order and then pay for your food. There is limited seating available in restaurant.
Cost
Most items are under $5.
Service
There is no table service. You make your order at the counter and pick up your food. I found that they were quite fast and the entire process of getting my food was pretty quick.
Parking
There is no specific parking for the restaurant. There are parking spaces on the street, but good luck finding an empty one.
Items Ordered
Flat Sesame Bagel Toasted with Butter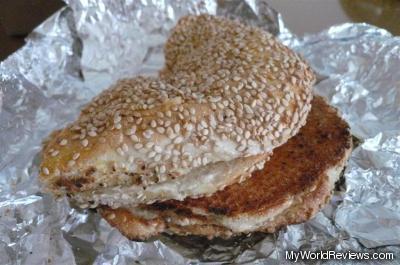 Flat Sesame Bagel
The flat sesame bagel was a pretty good bagel. It was really just like a normal bagel that had been squished. I was pleased that when I asked for my bagel to be lightly buttered, they didn't over-butter it.
Tropical Tango Smoothie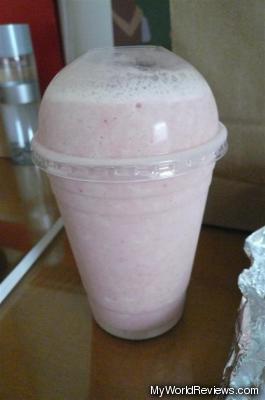 Tropical Tango Smoothie
Banana, Strawberry, Pineapple
The small smoothie was actually quite large and took me quite a while to finish. It was fairly filling, and I think it had some milk product in addition to the fruit. I really liked the fruit combination. The different fruit flavors all blended nicely and none of them overpowered the others.
review contents
Cost
Service
Parking
Items Ordered
Flat Sesame Bagel Toasted with Butter
Tropical Tango Smoothie
related reviews
More reviews in New York, NY
Been here? Want to write your own review of this restaurant?