Your Reviews About the World
MyWorldReviews.com
Let the world know what you think
Tao
New York, New York, United States
42 East 58th Street
New York, New York, United States
10022
212-888-2288
www.taorestaurant.com
View Map
Overall Experience:
8 / 10
Date Visited:
Wednesday, December 16, 2009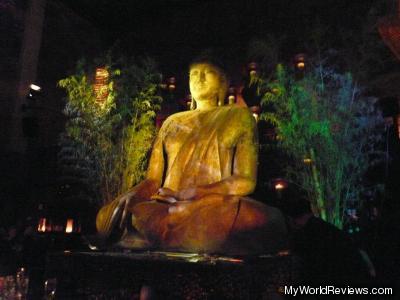 Inside Tao
Seating:
Main Floor Dining Room
Tao is a classy Asian/American restaurant in midtown Manhattan. The restaurant is located inside an old movie theater. It is quite large for a Manhattan restaurant, with tables on three levels. The interior decor is modern. The main feature is a two-story Buddha sitting by a reflecting pool full of fish and water lilies. The restaurant webpage boasts that they are frequently visited by celebrities.
The menu is designed for sharing. Some of the plates are larger than others, so we had a hard time judging how much food to order and ended up with a bit too much for 4 people. In general, I think the entrees are appropriately sized for one person (although there is variation amongst the dishes).
The restaurant is a bit pricey for Asian food, but the food was all very good. If you want to a nice Asian dinner, I would recommend this restaurant.
Dress
Smart casual - dress varied quite a bit. Some people were more dressed up, but jeans and a nice shirt was fitting for the environment.
Cost
Entrees range between $25-$40. Small plates and appetizers vary from $4-$20.
Reservations
The restaurant can be quite busy in the evenings, even during the week. Reservations are recommended.
Items Ordered
Pork Potstickers Dumplings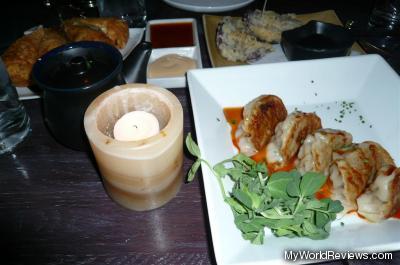 Dumplings, Springrolls, and Tempura
with a chili sesame glaze
The dumplings were fairly typical. They were lightly fried.
Imperial Vegetable Egg Roll
The egg rolls were unusual. They were very large. We received two egg rolls, each cut in half. They were tricky to eat with chopsticks because they were so big. The outside layer was thicker than usual, and very crispy. The inside was pretty typical
Sweet Potato Tempura
The sweet potato tempura was made with purple sweet potatoes. They were delicious, and very nice with a light dough.
Salmon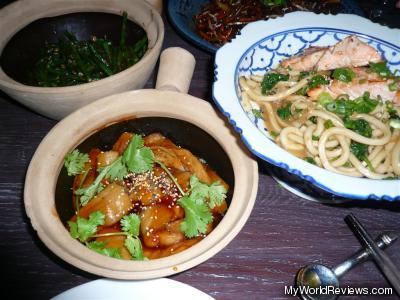 Eggplant, salmon, and green beans
Soy Ginger Glazed Salmon with Udon Noodles and Spinach
They salmon had a delicious sauce that coated the spinach and noodles as well. The noodles were very thick.
Spicy Hoi Yin Eggplant
The eggplant was only mildly spicy. The sauce on them was really very flavorful.
XO Chinese Long Beans
The beans were cooked until soft. They had a really good sauce on them.
Udon Beef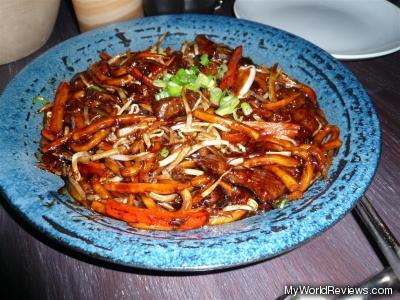 Udon Beef
Black pepper sizzled Filet Mignon with Udon Noodles
The beef was very different from what I was expecting. The beef was cut up in strips and mixed into a stir fry. There were a few pieces of vegetables mixed in with the beef and noodles. I found the sauce on this dish very salty.
review contents
Dress
Cost
Reservations
Items Ordered
Pork Potstickers Dumplings
Imperial Vegetable Egg Roll
Sweet Potato Tempura
Salmon
Spicy Hoi Yin Eggplant
XO Chinese Long Beans
Udon Beef
related reviews
More reviews in New York, NY
Been here? Want to write your own review of this restaurant?