Your Reviews About the World
MyWorldReviews.com
Let the world know what you think
Swiss Chalet
Waterloo, Ontario, Canada
267 Weber Street North
Waterloo, Ontario, Canada
N2J 3H7
519-884-9410
swisschalet.com
View Map
Overall Experience:
7 / 10
Date Visited:
Saturday, November 17, 2007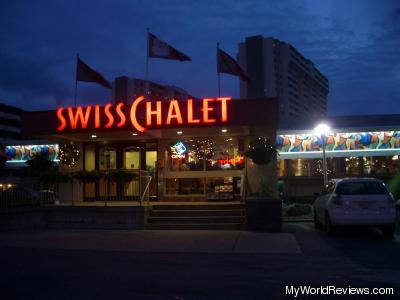 Swiss Chalet is a chain of restaurants. They're not really "fast food" in the sense that you sit down and are served by a waiter, but the food is definitely served very quickly, and is quite good value.
We arrived around 5:20p on a Saturday, and the restaurant was full. We had to wait about 30 minutes before we were seated.
Cost
Interior of the restaurant
Around $10-$15 per person. Swiss Chalet is really quite affordable and offers good value for what you pay (which is probably why it's so busy all the time).
Dress
Casual - Shorts and a t-shirt are fine in the summer.
Reservations
Not available.
Items Ordered
Spinach Dip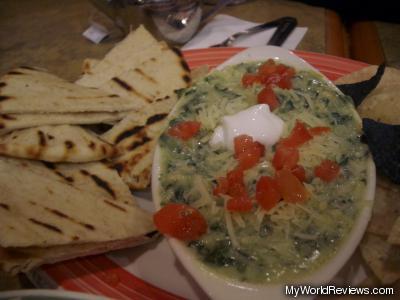 Spinach Dip
Our warm Spinach & Artichoke Dip served with tortilla chips and pita wedges is perfect for sharing.
The spinach dip appetizer was pretty good, but as far as spinach dips go, I've had better. This particular dip was creamier than I thought it should have been. It was so runny that we had great difficulty scooping it onto the nachos and pitas, and instead resorted to using a knife to spread it.
This was a new item on their menu - it was only located on a paper insert on the inside of the menu. I'm not sure how long it's going to stick around for.
Greek Salad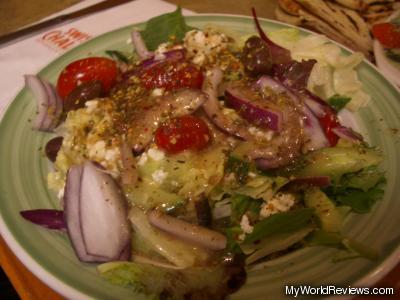 Greek Salad
Crisp lettuce, juicy tomatoes, crumbled Feta cheese, cucumbers, Kalamata olives in a tangy Greek dressing.
This was a proper greek salad - unlike the one I had last time at the Swiss Chalet in Guelph. It was quite good, although there was far too much dressing on it. The salad was more like a soup than a salad. Next time I'll be sure to get the dressing on the side.
Quarter Chicken Dinner with White Meat and Fries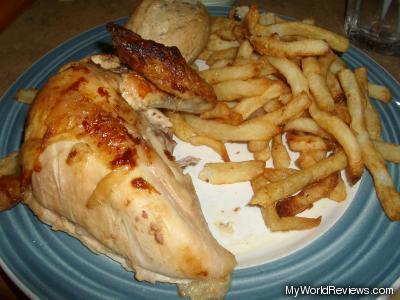 Quarter Chicken Dinner; White Meat; Fries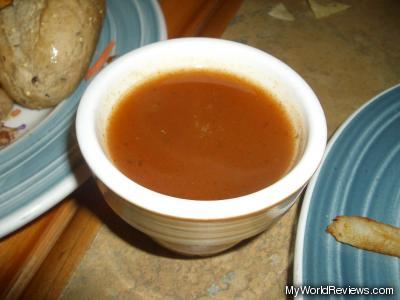 Chalet Dipping Sauce
All the Classic Rotisserie Chicken Dinners are served with our famous Chalet Dipping Sauce, choice of homestyle white or multigrain roll and choice of side.
This is the main attraction at Swiss Chalet - the purpose for going. By default, the meal is served with dark meat, so if you prefer white, be sure to specify. You can choose your choice of side dish (fries, baked potato, certain vegetables), but the fries at swiss chalet are great. The dinner is also served with Swiss Chalet's dipping sauce. It's a bit of an acquired taste, but after a couple tries, you can't live without it!
review contents
Cost
Dress
Reservations
Items Ordered
Spinach Dip
Greek Salad
Quarter Chicken Dinner with White Meat and Fries
related reviews
More reviews in Waterloo, ON
Been here? Want to write your own review of this restaurant?
linked reviews