Your Reviews About the World
MyWorldReviews.com
Let the world know what you think
Strip House
New York, New York, United States
13 E 12th St.
New York, New York, United States
10003-4495
212-328-0000
striphouse.com
View Map
Overall Experience:
7 / 10
Date Visited:
Saturday, January 17, 2009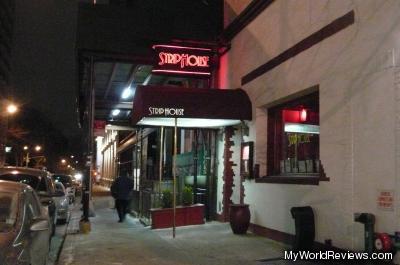 Strip House NYC
Strip House is a steakhouse located around Union Square in New York City. The restaurant has an interesting decor - the interior is red and velvety. The mens washroom has some interesting pictures of topless women. This all creates a somewhat intimate atmosphere that feels like a classy lounge. Overall, I was reasonably impressed with the food, service. I enjoyed my experience here.
There was one negative aspect to the dinner - one member of our group was not a huge steak fan, and rather than order her own, she just wanted to have salad and sides, and have a small piece of someone else's steak. When she mentioned this to our waitress, she was informed that there would be an additional "$7 sharing charge". I was quite disappointed in this. Compared to the price of our meal, $7 was nothing. It gave the impression that the restaurant didn't care about the customer experience. That aspect of my dining experience was unpleasant, and there was really no need for it.
Dress
Business casual - nice jeans and a button shirt is fine.
Cost
Average for a steakhouse - most steaks are served by themselves, and are around $40-$50. Sides are around $12 each.
Service
The service was quite good. Other than the "additional sharing charge", the wait staff was attentive.
Reservations
Reservations are probably recommended. When we visited, there were plenty of open tables, but apparently the restaurant was scheduled to fill up later in the evening.
Items Ordered
Bread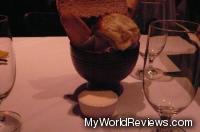 Bread
Our table was presented with a small basket of bread. There were a couple different varieties of bread and crackers in the basket. The long skinny buns were quite buttery. There was also a nutty bread with raisins that was quite good.
Soup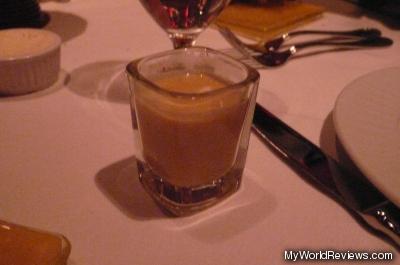 A small glass of soup
The soup was a complimentary appetizer. This was a very creamy soup with a hint of squash. I think the soup was supposed to be a squash soup, but there was definitely more cream than squash. This made the soup quite rich, but still delicious.
Vine Ripened Tomatoes and Red Onion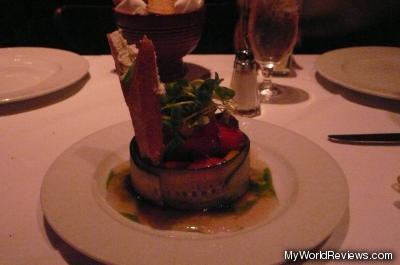 Vine Ripened Tomatoes and Red Onion
Sliced cucumber, sweet basil, tomato water vinaigrette
This salad was quite tasty, and presented very nicely. It consisted of tomatoes (both yellow and red) sitting in a 'basket' made of cucumber slices. There were two buttered crackers sticking up out of the salad. The tomatoes had a delicious tomato flavor, which is uncommon in January. The dressing was a subtle vinaigrette that went well with the salad.
Filet Mignon (14oz)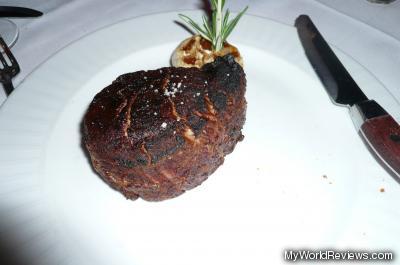 Filet Mignon (14oz)
This 14oz. Filet Mignon was ordered medium, and cooked almost perfectly. There was one edge of the steak that was burned, but the rest of it was excellent. It was served with a roasted bulb of garlic which was nice, but nobody at our table felt comfortable eating that much garlic.
The steak was quite flavorful and tender - I would order this again.
Sides: Sauteed Asparagas, Potatoes Romanoff, and Sauteed Wild Mushrooms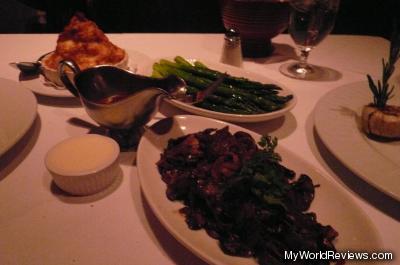 Sides: Sauteed Asparagas, Potatoes Romanoff, and Sauteed Wild Mushrooms
Cost:
Asparagas: $10, Potatoes: $12, Mushrooms: $12
Since the steak did not come with any sides, we were able to choose our own. The special side of the day was sauteed asparagas, which was sauteed in a lot of butter, and a bit of garlic. The sauteed mushrooms had a lot of flavor to them, which was a pleasant surprise. Mushrooms are often served too bland. The potatoes romanoff was a dish of creamy mashed potatoes, mixed with cheese, and then baked. It was very good.
Each of the sides was fairly large - you probably need slightly fewer sides than people in your group (a group of four would be fine with three sides).
review contents
Dress
Cost
Service
Reservations
Items Ordered
Bread
Soup
Vine Ripened Tomatoes and Red Onion
Filet Mignon (14oz)
Sides: Sauteed Asparagas, Potatoes Romanoff, and Sauteed Wild Mushrooms
related reviews
More reviews in New York, NY
Been here? Want to write your own review of this restaurant?