Your Reviews About the World
MyWorldReviews.com
Let the world know what you think
Stonewood Grill & Tavern
Sarasota, Florida, United States
1894 Stickney Point Road
Sarasota, Florida, United States
34201
941-927-3969
stonewoodgrill.com
View Map
Overall Experience:
8 / 10
Date Visited:
Saturday, February 14, 2009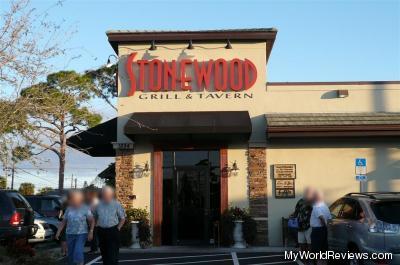 Stonewood Grill & Tavern in Sarasota
Stonewood is a chain of somewhat higher-end American-style restaurants. They offer steaks, fish, and other classics. I was quite impressed with the quality of food that we had at Stonewood. Everything was very tasty, and reasonably priced.
Dress
Very casual.
Cost
Steaks range from $16 - $30. Entree salads are around $12.
Service
Our waitress seemed friendly and cheerful, but otherwise the service was unremarkable.
Reservations
I don't think the restaurant takes reservations, but they do accept "call aheads" (which are just like reservations, although you may not be seated immediately). We called ahead on valentines day, and were seated right away. Otherwise, it seemed like there was a long line of people waiting for a table.
Items Ordered
Razztini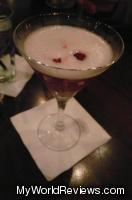 Razztini
Van Gogh Raspberry Vodka, Chambord, splash of sour mix, fresh raspberries and a lime squeeze
The razztini tasted quite fruity and sweet. It was quite good and didn't taste overly of alcohol.
Bread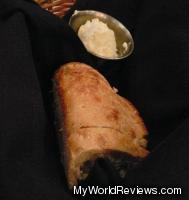 Bread
We were presented with a small loaf of soughdough bread with butter. Our table was quite large, so we had to ask for a second loaf of sourdough bread (because not everybody got a piece from the first loaf). It was served warm, and was very good.
Asian Chicken Salad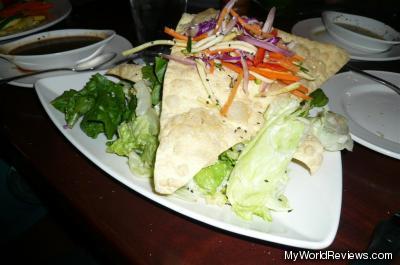 Asian Chicken Salad
Crispy wontons layered with chilled sesame noodles and topped with a blend of grilled sliced chicken breast, fresh mixed greens and sesame ginger dressing, finished with Asian slaw and tangy ginger lime sauce.
This Asian salad was everything that I expect from an Asian salad. It was very good. Underneath the lettuce was a bed of wonton noodles. The ginger lime sauce made for a very good dressing that went well with everything in the salad. It was a very interesting salad - definitely large enough for a meal.
Oak Grilled Filet Mignon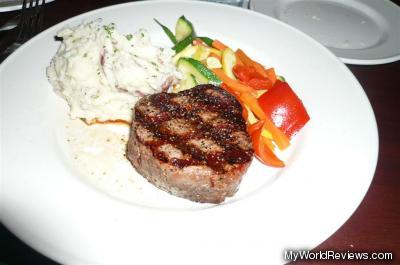 Oak Grilled Filet Mignon
Thick, center cut, seasoned and seared.
Cost:
12 oz. for $20.50; 7 oz. for $16.50
The steak was ordered medium, and cooked perfectly. It was served with the choice of two sides. We selected garlic mashed potatoes and vegetables. The steak was well seasoned, and generously salted. The garlic potatoes had a nice hint of garlic, but were otherwise just buttery. The vegetables were also nice and buttery.
Everything was quite good.
review contents
Dress
Cost
Service
Reservations
Items Ordered
Razztini
Bread
Asian Chicken Salad
Oak Grilled Filet Mignon
related reviews
More reviews in Sarasota, FL
Been here? Want to write your own review of this restaurant?