Your Reviews About the World
MyWorldReviews.com
Let the world know what you think
Snack Dragon
New York, New York, United States
164 Orchard St
New York, New York, United States
(212) 473-7257
www.snackdragon.com
View Map
Overall Experience:
6 / 10
Date Visited:
Wednesday, October 19, 2011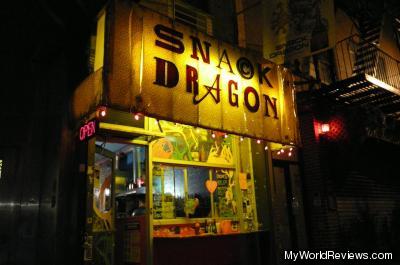 Snack Dragon in Lower East Side
Seating:
Bench and small tables
The Snack Dragon is a small Taco shack. It has the feel of going to your friends apartment for tacos. The kitchen is out in the open behind the bar. The whole place is decorated with many colors and flashy lights like a college dorm room. When we visited there was just one person working there doing all the food prep and service. All the seating is at the bar and a small table and booth bench at the back.
Dress
Casual
Cost
Most tacos are $4 or $5.
Service
Service was pretty casual. We placed our order at the bar, sat down to eat, and then paid before leaving.
Items Ordered
Tacos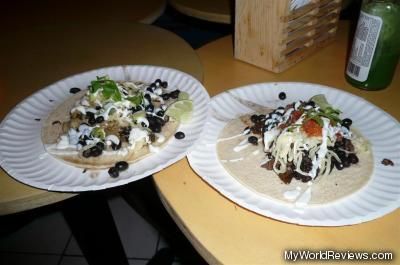 Tacos - Carne Asada and Pollo Verde
Carne Asada - Steak marinated in chipotle citrus marinade
Pollo Verde - Grilled chicken breast cooked in herbs and spices with extra sour cream and scallions
Cost:
Carne Asada $5, Pollo Verde $4
The tacos were prepared fresh, on the spot. The tortillas were very soft, and fell apart quickly. The tacos were not spicy, but there was hot sauces available at the table. The steak meat was a bit tough but flavorful. The chicken was a bit bland.
review contents
Dress
Cost
Service
Items Ordered
Tacos
related reviews
More reviews in New York, NY
Been here? Want to write your own review of this restaurant?