Your Reviews About the World
MyWorldReviews.com
Let the world know what you think
Sleepwalk With Me
New York, New York, United States
45 Bleecker Street
New York, New York, United States
212-239-6200
sleepwalkwithmike.com
View Map
Overall Experience:
8 / 10
Date Visited:
Saturday, March 21, 2009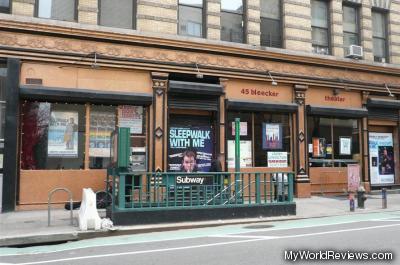 Sleepwalk With Me Theatre
Sleepwalk With Me is a comedy show performed by Mike Birbiglia. It is an "off broadway" show, but is not like a typical performance - it is more of a monologue, or a one-man stand-up comedy routine. There is no set, costumes, or music. Nevertheless, all members of our group found it very funny, and an enjoyable way to spend the evening. The show lasts about 90 minutes, and is performed without an intermission.
The show consists of Mike Birbiglia telling a humorous story about his personal life, and a sleeping disorder that he suffers from. The story is very well rehearsed, and the delivery feels very natural.
Cost
We purchased tickets from the box office for $49.50 each. According to the telecharge website, ticket prices will be going up to $101 for premium seats. Although I quite enjoyed the show, $49.50 seemed like a lot for just a stand up comedy routine. $101 is even more of a stretch. I don't think I would find the performance worthwhile at that price.
review contents
Cost
related reviews
More reviews in New York, NY
Been here? Want to write your own review of this live show?