Your Reviews About the World
MyWorldReviews.com
Let the world know what you think
Skinny's Cantina
Long Island City, New York, United States
4705 Center Blvd
Long Island City, New York, United States
11101
718-806-1068
View Map
Overall Experience:
6 / 10
Date Visited:
Tuesday, January 24, 2012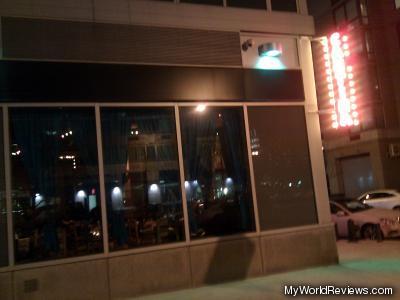 Skinny's Cantina
Skinny's Cantina is a new (as of Jan 2012) Mexican restaurant in Long Island City. There's a lot of new development in the area, and not a lot of restaurants. Skinny's has a full bar, a nice view of the east river (until the library is built and blocks the view), and a nice atmosphere. Their food was OK, but not that great.
Dress
Fairly casual
Cost
Most items were $10-$15
Service
The service was surprisingly good. Our water glasses were always full and we were brought a second dish of nachos without asking.
Items Ordered
Chicken Enchilada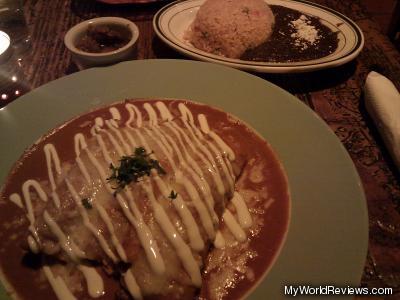 Chicken Enchilada
The chicken enchilada was one of the daily specials at Skinny's. It was available with chicken, beef, or pork. There was also a selection of sauces. We decided to go against our waitresses recommendation and get the spicy sauce, but it wasn't spicy at all. The sauce was still nice, but this dish was incredibly salty. I was drinking water all night to try and recover. The enchilada was pretty typical - it was chicken wrapped up in a flavorful (and salty) sauce. The enchiladas were also served with a side plate of rice and beans. This was a fairly large meal.
Taco Selection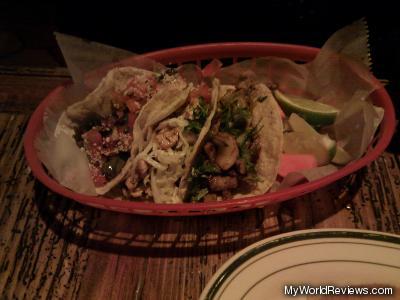 Taco Selection
Chicken - Chicken breast, chipotle honey glaze, pickled cabbage
Arrachera - Flank steak, poblano peppers, caramelized onions, avocad-tomatillo salsa
Nopal - Grilled cactus, mushrooms, pico de gallo, cotija cheese
Cost:
$3 each on Taco Tuesday - ordinarilly $11 for 3
The tacos were pretty small. It seemed a bit expensive for only $3 each. Three of them would make a small lunch but probably wouldn't be enough for dinner.
The tacos were all pretty good, and each had a slightly different taste based on its ingredients.
review contents
Dress
Cost
Service
Items Ordered
Chicken Enchilada
Taco Selection
related reviews
More reviews in Long Island City, NY
Been here? Want to write your own review of this restaurant?