Your Reviews About the World
MyWorldReviews.com
Let the world know what you think
Sigmund Pretzelshop
New York, New York, United States
29 Avenue B
New York, New York, United States
10009
646-410-0333
www.sigmundnyc.com
View Map
Overall Experience:
8 / 10
Date Visited:
Sunday, April 3, 2011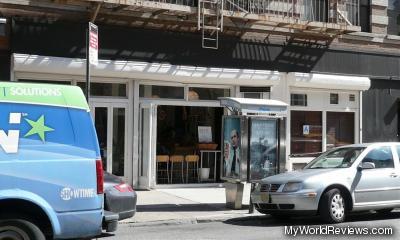 Sigmund Pretzelshop
Sigmund pretzelshop is a pretzel bakery located in Alphabet City in Manhattan. They sell fresh German style pretzels - plain, with toppings, with dips, or in sandwich form.
The restaurant has a few tables to sit at and a wall of windows that open on a nice day.
Items Ordered
Pretzels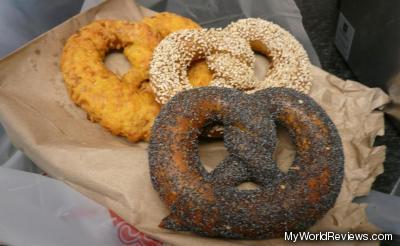 Pretzels
Pretzels are $3 each or $2 if you order them a day in advance. The plain pretzels are slightly larger than those with toppings. They warmed them up for us at the store. Pictured here are jalapeno and cheddar, sesame, and poppy seed. The pretzels were among the best I've had.
The plain pretzel (salt) had a lot of salt on it - arguably too much. The cheese pretzel looks very cheesy, but didn't have that much of a cheese flavor. The cheese must have been quite mild. The jalapeno peppers gave it a somewhat sweet flavor without adding all that much spice. The sesame and poppy seed pretzels were plain tasting, but covered in a good quantity of seeds.
review contents
Items Ordered
Pretzels
related reviews
More reviews in New York, NY
Been here? Want to write your own review of this restaurant?