Your Reviews About the World
MyWorldReviews.com
Let the world know what you think
Shades Oceanfront Bistro
San Diego, California, United States
5083 Santa Monica Ave
San Diego, California, United States
92107
619-222-0501
www.shadesob.com
View Map
Overall Experience:
8 / 10
Date Visited:
Monday, May 5, 2008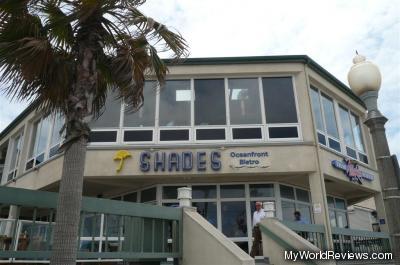 Shades Oceanfront Bistro offers fairly high quality soups, salads, sandwiches, and blankets (flatbread pizzas). For dinner they also have a selection of entrees. The restaurant offers casual oceanfront dining with a great view, good food, and reasonable prices.
The portions are quite large so you may want to split a sandwich if you're not that hungry. All the food we ordered here was quite good. The sandwiches were a bit plain. Other members in our group ordered a blanket and I think I would recommend getting one of the blankets over a sandwich. Other members in our group also really liked the roasted red pepper soup, the onion rings, and the tortilla soup.
Cost
Sandwiches are $8-$10.
Items Ordered
Roast Beef Sandwich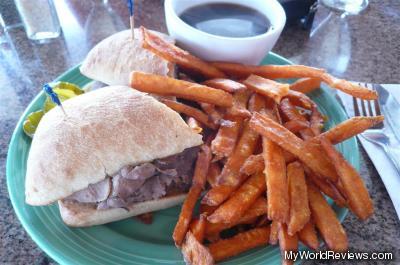 Roast Beef Sandwhich
Half pound of thin sliced Premium Roast Beef served on a toasted roll with Au Jus and horseradish
The sandwich was pretty good. The meat was fairly plain tasting, as was the Jus. There was a lot of meat on the sandwich, but nothing else. The sweet potato fries were really good - sweet and crispy.
Shades Chicken Sandwich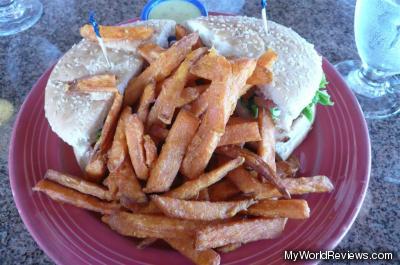 Shades Chicken Sandwich
Grilled chicken breast with Brie, mayo, lettuce, tomato, onion and Shades signature sauce
The melted Brie cheese tasted really good and went well with the sandwich. Otherwise the sandwich was just ok. The sweet potato fries were the same as the other sandwich and were also really good.
Dress
Very casual.
Parking
There were several parking spaces available on the streets around the restaurant.
Area
The restaurant is located just across from the beach. This is a great place to eat and have a walk on the beach. Just down the road there is also a really nice pier you can walk out on to enjoy the view.
review contents
Cost
Items Ordered
Roast Beef Sandwich
Shades Chicken Sandwich
Dress
Parking
Area
related reviews
More reviews in San Diego, CA
Been here? Want to write your own review of this restaurant?