Your Reviews About the World
MyWorldReviews.com
Let the world know what you think
Seaport Cafe
New York, New York, United States
89 South St
New York, New York, United States
212-964-1120
View Map
Overall Experience:
3 / 10
Date Visited:
Saturday, August 16, 2008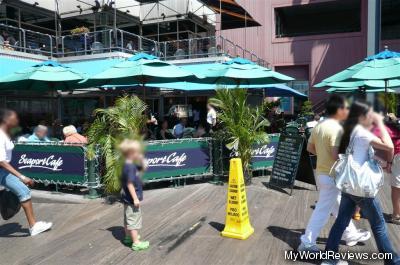 The Seaport Cafe is located on Pier 17. They have several outdoor tables offering a really nice view. It's a great place to sit and eat on a Saturday afternoon. Unfortunately, the food was poor and overpriced.
Dress
Very casual - anything is fine
Cost
Expect to spend $15-$20 per person.
Service
It is very much a casual cafe, even though it isn't priced that way. All the dishes, cups, and cutlery are plastic. I also thought it was strange that our waiter was about to walk away without taking my order. Later we also realized that he didn't bring us all the food we were suppose to get.
Items Ordered
The Seaport Classic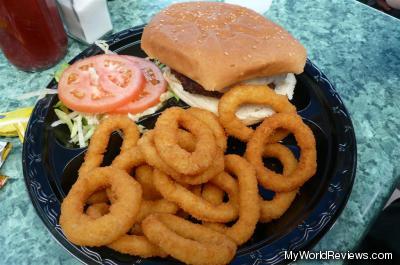 The Seaport Classic Burger
A deluxe 1/2 lb. burger with mixed greens, tomato, and American, Swiss or Provolone. Served with fries or onions rings, lettuce, tomato, coleslaw and pickle
Reading the menu description again, I realize that I didn't get any coleslaw. The burger also didn't come with mixed greens - it came with shredded iceberg lettuce. The burger itself was mediocre. It was made from ground beef and was crumbly. I ordered it with Provolone cheese which went well with the burger.
The onion rings were pretty bad. Normally onion rings are rings of onion, breaded and friend - these were rings of fried breading with some kind of onion mixture inside. It was weird and didn't really taste all that good.
Fish & Chips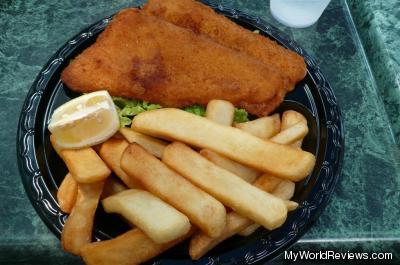 Fish & Chips
Twin Fried Flounder with French Fries. Served with House Salad and Choice of Dressing.
We never received any house salad, so I can't comment on that. However, the fried fish was pretty good. It was made from a full piece of fish. The fries were decent too.
Fresh Homemade Lemonade
Lemonade
The lemonade was actually good. It had the right amount of sweetness. It was nice and refreshing on a hot day.
review contents
Dress
Cost
Service
Items Ordered
The Seaport Classic
Fish & Chips
Fresh Homemade Lemonade
related reviews
More reviews in New York, NY
Been here? Want to write your own review of this restaurant?