Your Reviews About the World
MyWorldReviews.com
Let the world know what you think
Savann
New York, New York, United States
414 Amsterdam Ave
New York, New York, United States
10024
212-580-0202
savann.com
View Map
Overall Experience:
8 / 10
Date Visited:
Saturday, March 20, 2010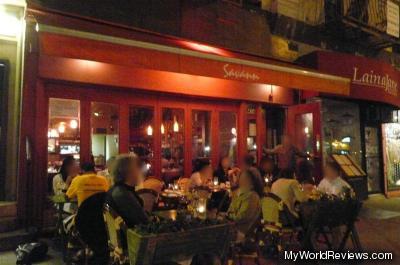 Savann
Savann is a restaurant located in the Upper West Side of Manhattan. We almost didn't go here, because I thought the menu items looked pretty typical, but the food the people outside were eating looked good, so we changed our mind. I'm glad we ended up eating here because the food was delicious.
Dress
Casual
Cost
Entrees were $15-$20.
Service
We ended up spending several hours at the restaurant just enjoying the food and the atmosphere, and we never felt pressured to leave. There were always a couple tables open.
Reservations
The patio was full when we arrived. The restaurant was fairly busy throughout the Saturday evening, but there was a never a wait for a table.
Items Ordered
Roasted Portobello Mushroom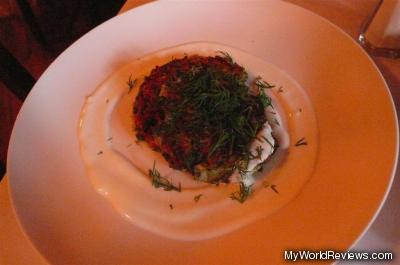 Roasted Portobello Mushroom
Stuffed with pine nuts, herbed goat cheese over smoked tomato and shallot sauce
This appetizer was really good. The goat cheese was the dominant flavor and went really well with the tomato sauce and pine nuts.
Mint Zucchini Pancake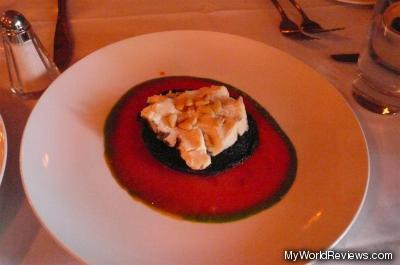 Mint Zucchini Pancake
Served with light garlic yogurt sauce
I didn't notice any mint taste in the zucchini pancake, but it was still very good. It was a fried zucchini patty with yogurt sauce.
Roasted Pork Loin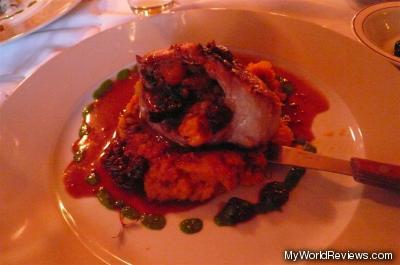 Roasted Pork Loin
Stuffed with caramelized onions, sun-dried fruit, pine nuts and sage, served over sweet potato puree, lentil, with wild cherry and rose wine sauce.
This entree was amazing. It was very sweet with the sun-dried fruit and sweet potato. It was an unusual combination, but I liked how the sweet flavors went with the pork loin and lentils.
Grilled Marinated Lamb Sirloin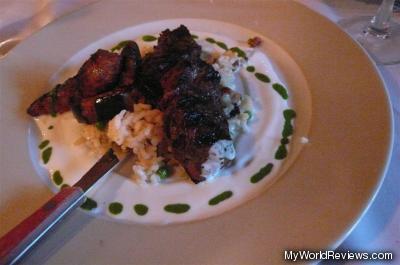 Grilled Marinated Lamb Sirloin
Over vegetable risotto and roasted eggplant with a garlic yogurt sauce
The lamb was very similar to a kebab, but was still pretty good. I didn't really like the yogurt sauce, but I usually don't. The risotto was also pretty good.
Chocolate Fondant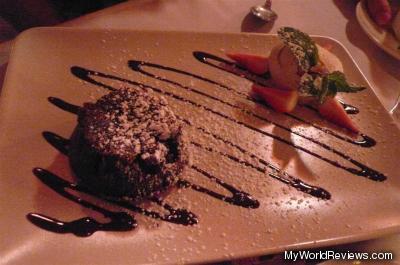 Chocolate Fondant
Warm chocolate cake served with vanilla ice cream, drizzled berry and chocolate sauce
The chocolate fondant was a typical chocolate lava cake. It was warm and oozed with hot chocolate fudge from the middle. It was good, but nothing extraordinary. It's what you'd expect from an average chocolate lava cake.
review contents
Dress
Cost
Service
Reservations
Items Ordered
Roasted Portobello Mushroom
Mint Zucchini Pancake
Roasted Pork Loin
Grilled Marinated Lamb Sirloin
Chocolate Fondant
related reviews
More reviews in New York, NY
Been here? Want to write your own review of this restaurant?