Your Reviews About the World
MyWorldReviews.com
Let the world know what you think
Sarasota Jungle Gardens
Sarasota, Florida, United States
3701 Bay Shore Rd
Sarasota, Florida, United States
34234
941-355-1112
sarasotajunglegardens.com
View Map
Overall Experience:
6 / 10
Date Visited:
Thursday, February 12, 2009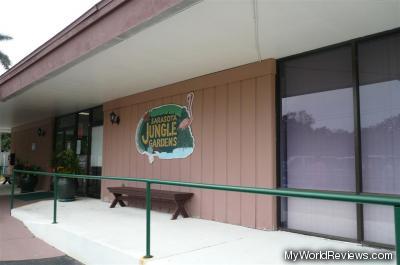 Sarasota Jungle Gardens
Sarasota Jungle Gardens is one of the more popular family-friendly attractions in Sarasota. It is a small zoo that takes care of abandoned pets and injured animals. They have a large collection of birds, some turtles, crocodiles, alligators, flamingos, and even some snakes. We didn't go to the Sarasota Jungle Gardens with high expectations, but we were pleasantly surprised. Everyone in our group enjoyed the afternoon we spent here.
Quite strangely, at the back of the zoo, there is a weird Jesus exhibit called the "Gardens of Christ". It doesn't fit at all with the animal park, and seems completely out of place.
Shows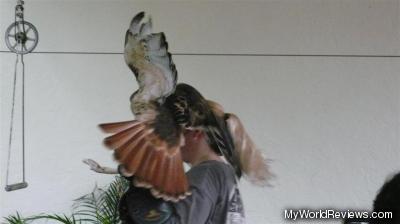 A red-tailed hawk during a bird show
The jungle gardens are very kid friendly, and most of the shows cater to kids. When we visited, there were two bird shows, and one alligator show. The bird shows introduced us to the birds in the collection, and showed birds doing tricks (like riding a bicycle). The alligator show introduced visitors to a baby alligator, and the host told us some facts about alligators.
Estimated Visiting Time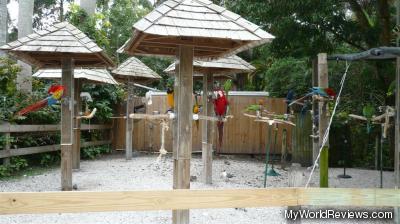 Parrots
Visitors can expect to spend 3-4 hours at the Sarasota jungle gardens. This allows time to see all the shows and visit all the animal habitats.
Parking
There is a large free parking lot at the Sarasota jungle gardens.
Cost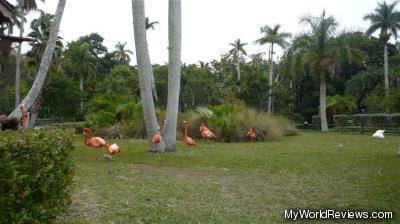 Flamingos roaming in the gardens
At the time of writing, adults paid $14/person, and children paid $10/person. There is a $1-off coupon available on their website. AAA/CAA members can also get $1 off by showing their membership card when paying for admission.
review contents
Shows
Estimated Visiting Time
Parking
Cost
related reviews
More reviews in Sarasota, FL
Been here? Want to write your own review of this attraction?