Your Reviews About the World
MyWorldReviews.com
Let the world know what you think
Sarasota Bay Explorers Sea Life Enounter Cruise
Sarasota, Florida, United States
1600 Ken Thompson Pkwy.
Sarasota, Florida, United States
941.388.4200
sarasotabayexplorers.com
View Map
Overall Experience:
6 / 10
Date Visited:
Friday, February 13, 2009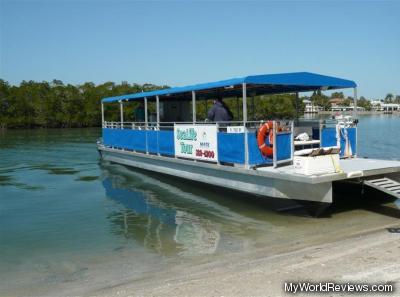 Sea Life Tour Boat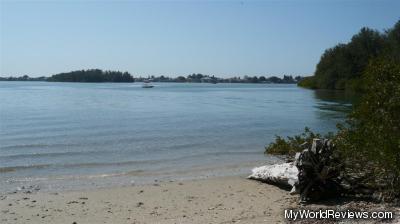 View from Governor's Island
The Sarasota Bay Explorers offer a few "eco-tours", including this Sea Life Encounter cruise. The boat cruise goes through Sarasota and Roberts Bay, with a very short 15 minute walk on a small island called Governor's Island. The cruise is very family oriented. The tour guides provide some information about the environment and the animals living there. There is also lots of opportunity to see wild life.
We had several dolphin spottings during our boat ride. There were no Manatees during the winter season, but they may be seen in the summer. The boat spent about 15 minutes going around a bird rookery, which had a nice variety of birds. The rookery can be quite stinky when the wind is going the in the wrong direction.
There was some trawling entertaining for the second half of the trip. The guides put a net out in the water to see what they bring up. We caught 4 small fish, a large shrimp, some sponge, sea grass, and sea urchins. We passed around the different creates and got to touch some of them.
The boat was very stable and covered, so it was shaded. It was a bit cooler and windy out on the water than it was on land.
Cost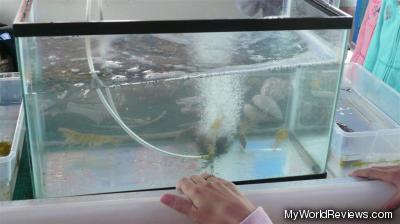 Sea life brought up from the sea floor
Advance reservations were required, although we paid on arrival. When we visited, adults cost $26 and children cost $22. There was also a discount if you purchased tickets for the Mote Aquarium.
Estimated Visiting Time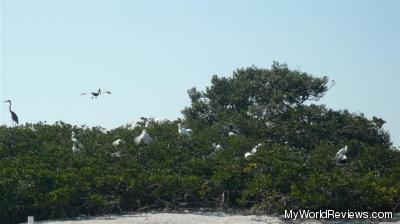 The Rookery
The entire tour lasted about 90 minutes. We were also asked to arrive 30 minutes early to pay and check-in. You pay for the tour just outside the Mote Aquarium. The tour group then gathers in a small area just outside the aquarium and is then walked over to the boat dock by the tour guides.
Parking
There is a large free parking lot at the Mote Aquarium where you meet for your tour.
review contents
Cost
Estimated Visiting Time
Parking
related reviews
More reviews in Sarasota, FL
Been here? Want to write your own review of this attraction?