Your Reviews About the World
MyWorldReviews.com
Let the world know what you think
Sangria 46
New York, New York, United States
338 West 46th Street
New York, New York, United States
10036
212-581-8482
sangria46.com
View Map
Overall Experience:
6 / 10
Date Visited:
Friday, September 26, 2008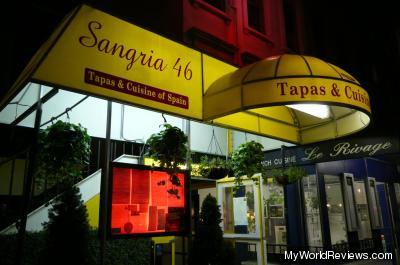 Sangria 46 Tapas & Cuisine of Spain
Sangria 46 is a Spanish restaurant located on 46th street ("Restaurant Row") between 8th and 9th avenues. They offer a tapas selection in addition to full entrees. There is also a small bar available if you don't want to order any food. The restaurant is fairly small, and is decorated in a very average/minimal way.
It's fun to go with a group of people and order several tapas dishes. This way you get to try lots of different things. We had 8 dishes between 5 people.
Dress
Sangria 46 is a casual restaurant; very casual clothes are fine.
Cost
Tapas selections averaged around $8 per dish.
Service
We arrived around 7:30pm on a Friday evening. The restaurant was fairly busy, but they managed to seat us immediately (even though we didn't have any reservations). Our seating location was pretty loud. We were right next to the bar that had some loud drunk girls.
Items Ordered
Bread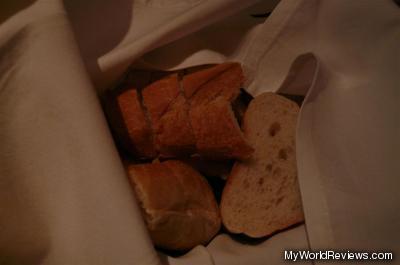 Bread
Our table was presented with a small basket of bread with some butter packets. The pieces of bread were the typical dry, white bread that's most frequently served at restaurants.
Tetilla
Tetilla
Soft cows milk cheese
This soft cheese was pretty tasty on its own, and went quite well with the bread that our table was provided with. The cheese was soft and creamy.
Filet Mignon a la plancha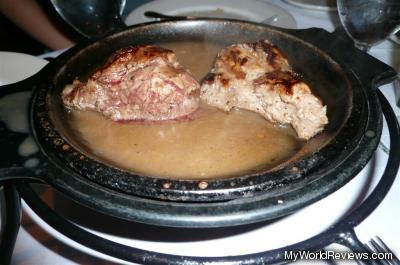 Filet Mignon a la plancha
Grilled filet mignon medallions
The "grilled filet mignon medallions" came with two medallions. They were cooked medium, as we ordered. One of the medallions was definitely more tender than the other (we could cut through it with a butter knife), but both were pretty tasty. They were good, but not among the best steaks I've had.
Gambas al ajillo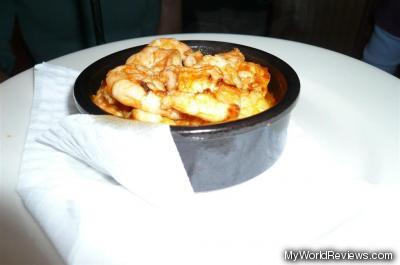 Gambas al ajillo
Shrimp in garlic sauce
There were quite a few small shrimp in this tray. The shrimp were served in a red sauce that tasted a bit like garlic, but didn't have a strong garlic flavor. The sauce was pretty good, but could have been thicker (it was very liquid, and usually dripped off the shrimp before they got to your plate).
Setas Rellenas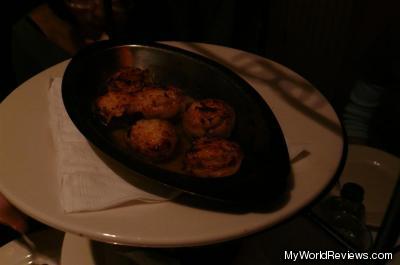 Setas Rellenas
Stuffed Mushrooms
I don't know what these mushrooms were stuffed with, but it was pretty good. It was likely a combination of a couple ingredients, including cheese. I thought these mushrooms were one of the better dishes that we tried.
Chorizo Salteado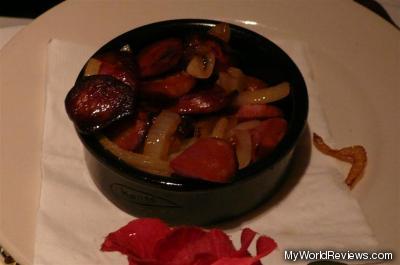 Chorizo Salteado
Sauteed chorizo with onions
The chorizo salteado was served in a small dish. It contained pieces of sausage and onion. The sausage was quite good - it was well spiced with a nice flavor.
Esparagos a la plancha
Esparagos a la plancha
Grilled asparagus
The grilled asparagus were pretty good, but didn't have much flavor. They were crispy, but needed a better topping. There were a couple of slices of garlic in the pan with them, but none of the flavor made its way into the asparagus. The lemon helped, but asparagus needs something a little more flavorful.
Tortilla con chorizo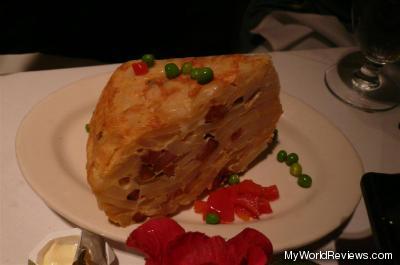 Tortilla con chorizo
Spanish potato omlette with chorizo
This potato omlette was pretty neat - it was like a slice of a potato quiche pie. It had some small pieces of the tasty sausage we had in one of our other dishes ("Chorizo Salteado"). The potatoes were nice and soft, and went well with the egg and sausage flavor. This tasted like a big breakfast, all rolled up into one tall, baked pie.
Ensaladilla Russa
Ensaladilla Russa
Russian potato salad with tuna, served in season
This was a pretty average potato salad with some pieces of tuna in it. I wasn't overly impressed with it - it's exactly what you expect to get if you combine tuna and potato salad. I'm not a big tuna salad fan, but other members of the group really enjoyed this dish.
review contents
Dress
Cost
Service
Items Ordered
Bread
Tetilla
Filet Mignon a la plancha
Gambas al ajillo
Setas Rellenas
Chorizo Salteado
Esparagos a la plancha
Tortilla con chorizo
Ensaladilla Russa
related reviews
More reviews in New York, NY
Been here? Want to write your own review of this restaurant?