Your Reviews About the World
MyWorldReviews.com
Let the world know what you think
Sanctuary T
New York, New York, United States
337B West Broadway
New York, New York, United States
10013
212-941-7832
www.sanctuaryt.com
View Map
Overall Experience:
6 / 10
Date Visited:
Sunday, August 8, 2010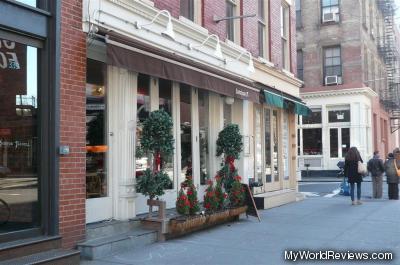 Sanctuary T
Sanctuary T is a cozy little restaurant in SoHo. Their specialty is their large tea menu offering many varieties of herbal teas that are served with a timer so you know how long to steep your tea. They also serve brunch, lunch, and dinner. The restaurant has a wall of windows that open to the street on a nice day.
Dress
Casual
Cost
Most brunch entrees were around $15.
Reservations
The restaurant had several tables open while we visited mid-day Sunday.
Items Ordered
Fluffy French Toast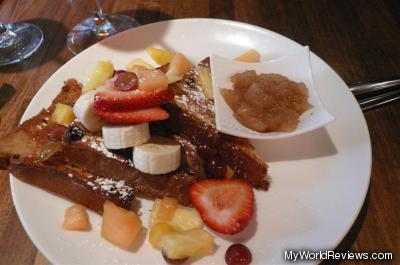 Fluffy French Toast
Toasted brioche topped with fresh fruit and served with apple marmalade on the side
The french toast was nice and fluffy. It was a pretty typical good french toast. The brioche was a slightly sweeter bread. I would have preferred more strawberries on the french toast, and less of what I consider filler fruit (melons and pineapples).
Irish Breakfast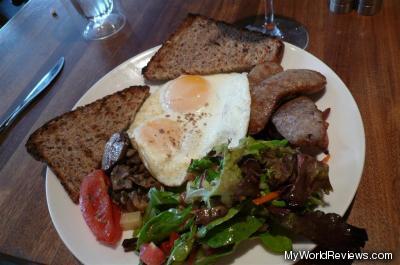 Irish Breakfast
Two organic eggs any style, roasted tomatoes, mushrooms, bacon, sausage and toast
The vegetable mix under the eggs was an interesting combination with the eggs. The sausages were pretty good but greasy. I felt this breakfast was lacking some potatoes, and was otherwise not a very complicated dish.
review contents
Dress
Cost
Reservations
Items Ordered
Fluffy French Toast
Irish Breakfast
related reviews
More reviews in New York, NY
Been here? Want to write your own review of this restaurant?