Your Reviews About the World
MyWorldReviews.com
Let the world know what you think
San Diego Zoo
San Diego, California, United States
2920 Zoo Drive
San Diego, California, United States
92101
sandiegozoo.org
View Map
Overall Experience:
8 / 10
Date Visited:
Wednesday, May 7, 2008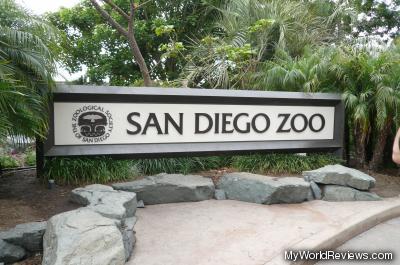 The San Diego Zoo is located inside Balboa Park, although it has its own entrance and parking lots. The zoo has a great selection of rare animals, including koalas, elephants, and pandas.
At the entrance, we had the option to buy the "Best Value" package (which gives you a guided bus tour, and use of the bus/aerial tram during the day). For an extra $8/person, this didn't turn out to be good value for the group. Everything was relatively close by, so we didn't need to take the bus. We did take the aerial tram because we had paid for it. The guided tour gave a nice overview of the animals, but we ended up walking by all of them again during the day, so it wasn't necessary. If your group has small children, and you are only going to be visiting some of the animals, it may make sense to take the bus around the park.
The zoo had a number of live shows at different times during the day. We saw one of them. It was of average quality, but after a lot of walking, it was nice to sit for 45 minutes.
The zoo really has an excellent animal collection. Some of the exhibits are small, but the zoo is busy constructing and growing to give the animals larger spaces. The zoo is nicely landscaped, and is a great family attraction.
Food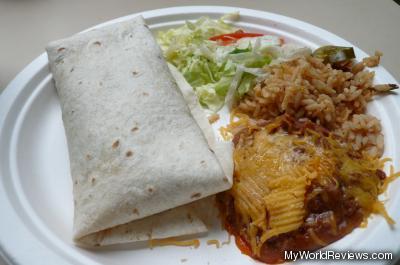 Beef Burrito Plate from the Canyon Cafe
At the zoo, we chose to eat at the "Canyon Cafe". There were a number of restaurant choices. The beef burrito plate (shown here) was one of the cheaper items available at the Canyon Cafe. Considering it was food from a park, it really wasn't that bad. The burrito had pulled beef, not ground beef, and was served with some beans and lettuce.
Parking
There is ample free parking at the zoo.
Cost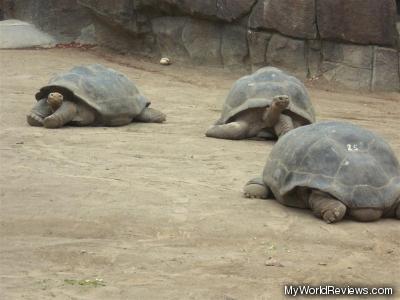 Galapagos Turtles
The zoo had general admission tickets for $26. For an extra $8, visitors could have a guided bus tour, use of the bus, and use of the aerial tram.
We were pleasantly surprised to discover that there was a 25% discount for Canadians.
Estimated Visiting Time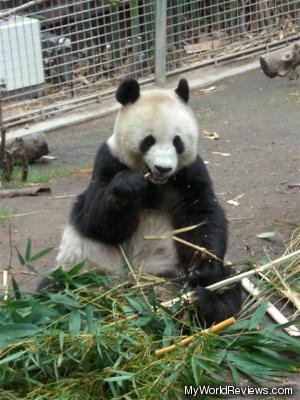 This hungry panda bear ate all day
Expect to spend the whole day here. The zoo has a really excellent animal selection, and it would take the better part of a day to see everything. The zoo also has live shows at various times throughout the day.
review contents
Food
Parking
Cost
Estimated Visiting Time
related reviews
More reviews in San Diego, CA
Been here? Want to write your own review of this attraction?
linked reviews