Your Reviews About the World
MyWorldReviews.com
Let the world know what you think
Sam's Falafel
New York, New York, United States
One Liberty Place
New York, New York, United States
View Map
Overall Experience:
9 / 10
Date Visited:
Monday, August 29, 2011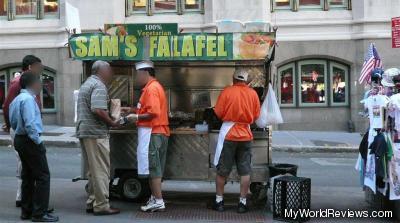 Sam's Falafel
Seating:
The plaza in front of Sam's Falafel
Sam's Falafel is an absolutely amazing food cart. They are located in the plaza in front of One Liberty Place and serve falafels either in a pita, or a platter. Depending on the day of the week (and the time of day), there can be a large line at Sam's. Since each sandwich is made fresh, it can take 5-15 minutes to order depending on the size of the line.
There are other places around NYC that are also called Sam's Falafel, but the quality of their falafels are awful. Sam's downtown at One Liberty Place is the only one worth trying.
Dress
Very casual
Cost
Falafel sandwiches are $4. Falafel platters are $6.
Service
Wait our turn in line to order, then request either a sandwich or platter, and have our money ready.
Items Ordered
Falafel Sandwich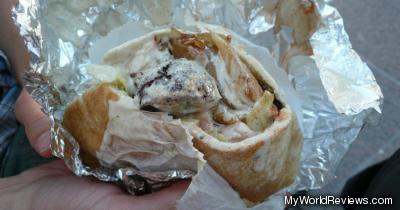 A Falafel Sandwich
I order the falafel sandwich every time I go here for lunch. It is unquestionably the best Falafel I have tried, and I have tried many from many countries including Israel, Egypt, and all around NYC. Nothing is as good as Sam's.
A falafel sandwich comes with hummus, tahini, fried onions, fried eggplant, lettuce, and tomatoes. The only option you have when ordering is whether or not you want hot sauce. I always get it with hot sauce since it adds a nice flavor. At $4, the falafel sandwich is incredible value. I find it fills me up for the whole afternoon.
review contents
Dress
Cost
Service
Items Ordered
Falafel Sandwich
related reviews
More reviews in New York, NY
Been here? Want to write your own review of this restaurant?