Your Reviews About the World
MyWorldReviews.com
Let the world know what you think
Rue 57
New York, New York, United States
60 West 57th Street
New York, New York, United States
10019-3953
212-307-5656
rue57.com
View Map
Overall Experience:
8 / 10
Date Visited:
Saturday, June 19, 2010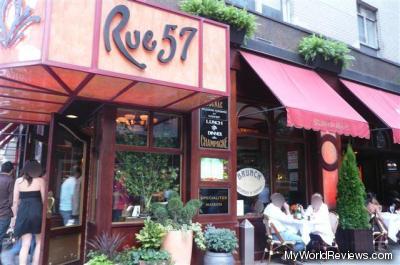 Rue 57
Rue 57 is a French restaurant located on the corner of 57th street and 6th ave. They have a large indoor dining room, and an outdoor patio. It was a beautiful day, so we sat outdoors, and quite enjoyed our meals, even though the traffic was quite noisy. The restaurant offers both traditional french cuisine, and, oddly enough, sushi. The food we ordered was all very good.
Dress
Slightly nicer than casual - nice jeans/nice shirt are fine.
Cost
Entrees are between $20-$40.
Reservations
It was full when we visited (8pm on a saturday) - reservations are recommended.
Items Ordered
Beet Salad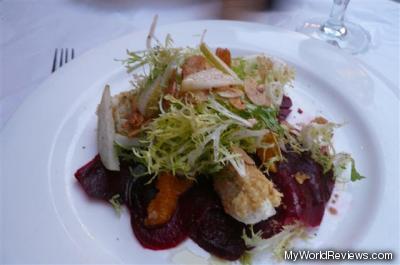 Beet Salad
frisse, baby greens, sliced bosc pears, baked goat cheese, orange vinaigrette
The beet salad had a small number of sliced beets, goat cheese that was breaded and baked, and a number of less desirable greens. The goat cheese appeared to be somewhat flavored, and went very well with the beets.
Mediterranean Lamb & Goat Cheese Sliders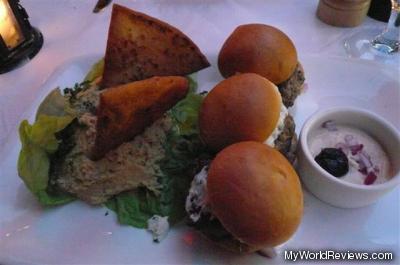 Mediterranean Lamb & Goat Cheese Sliders
with spicy rosemary aioli
The sliders had a surprising amount of hummus served on the side. The hummus was good, and I wished they had served a few more pita chips with it. The lamb tasted like ground beef - it was a pretty tasty burger, with a delicious feta cheese on top.
Beef Bourguignon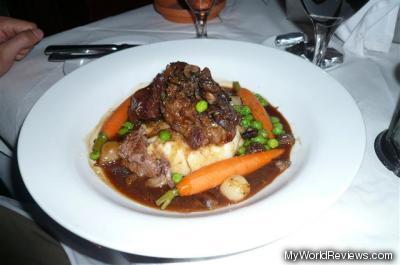 Beef Bourguignon
The beef bourguignon was the best item we ordered. The beef was very tender, although also very fatty. It was served on a bed of mashed potatoes, topped with mushrooms, and some carrots/peas/pearl onions.
The sauce was fantastic, and went very well with the delicious beef and mashed potatoes.
Trio of Chocolate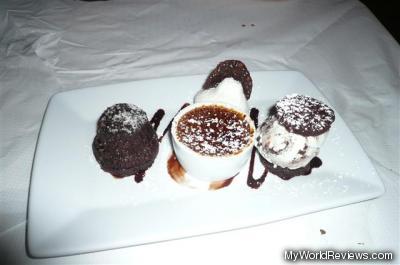 Trio of Chocolate
Ginger-chocolate creme brulee, ice cream sandwich, warm valhonna cake
The trio of desserts was just perfect for our group of three. We were all quite full, and just wanted a taste of dessert. Our waiter tried to upsell us on other desserts, but this one was just perfect. The lava cake was pretty typical (but good), as was the mint ice cream sandwiched between two cookies. The ginger-chocolate creme brulee was unusual, but quite tasty.
review contents
Dress
Cost
Reservations
Items Ordered
Beet Salad
Mediterranean Lamb & Goat Cheese Sliders
Beef Bourguignon
Trio of Chocolate
related reviews
More reviews in New York, NY
Been here? Want to write your own review of this restaurant?