Your Reviews About the World
MyWorldReviews.com
Let the world know what you think
Rouge Tomate
New York, New York, United States
10 E 60th St
New York, New York, United States
10022
646-237-8977
rougetomatenyc.com
View Map
Overall Experience:
8 / 10
Date Visited:
Saturday, March 22, 2014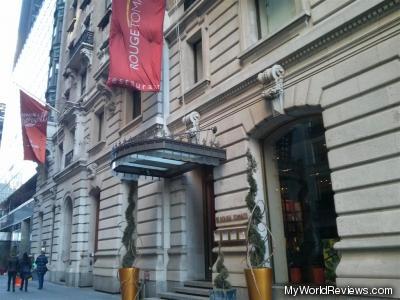 Rouge Tomate
The Rouge Tomate is a one-michelin-star restaurant in midtown NYC that offers delicious health-conscious food that's farm-fresh and nicely prepared. The menu was created with the help of a culinary nutritionist.
In addition to good food, Rouge Tomate also serves a selection of unique juices and cocktails from the bar that were all excellent. The restaurant is quite large for NYC with tables that are well spaced out. The ambiance is upscale but relaxed.
Dress
Smart casual
Cost
Entrees ranged from about $30-$50.
Service
Our wait staff changed throughout the evening - I got the impression that a sommelier took our drink order, while someone more familiar with the menu took the food order. We didn't have any questions, but if we had I'm confident the appropriate person would have been there to answer them.
Reservations
Recommended.
Items Ordered
Amuse-Bouche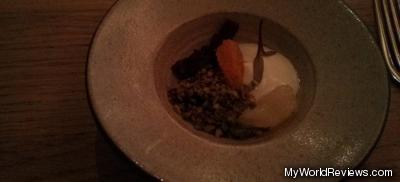 Amuse-Bouche
The amuse-bouche was a mini beet salad. There was a fresh ricotta cheese, a few small pieces of beet, some citrus fruits, and a ground nut (possibly pistachios). It was light and refreshing. We were also served a small loaf of focaccia bread with a squash spread (instead of butter). The bread felt like it was whole wheat and cooked in a lot of oil, and was delicious.
Celeriac and Roasted Chestnut Soup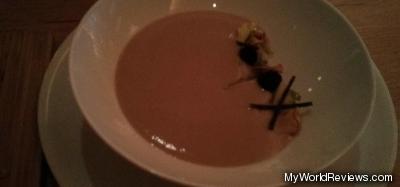 Celeriac and Roasted Chestnut Soup
Foie Gras / Black Truffle / Celery Heart / Black Cocoa / Buttermilk
The celeriac and roasted chestnut soup was excellent. The soup was served with all the fillings nicely positioned in the bowl and then the liquid was poured in at the table. The foie gras were little tiny balls that were coated in black cocoa. They dissolved into the rest of the soup and helped give it a rich flavor. The soup was creamy and had a nice chestnut flavor.
Farro Spaghetti
Farro Spaghetti
Cauliflower / Garlic / Lemon / Chili / Sourdough / Bottarga
The farro spaghetti was a nice dish. It had a strong cauliflower flavor which I loved. Cauliflower doesn't usually have much flavor, so I was surprised how much this dish smelled and tasted like it.
Millbrook Venison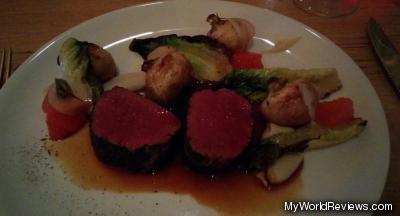 Millbrook Venison
Grapefruit / Sunchoke / Baby Turnip / Gem Lettuce / Lapsang Souchong
The Venison was also very good. There were two pieces of Venison, served rare, with a tasty venison and grapefruit juice. The sunchoke's were sort of bland tasting, and didn't really seem to fit with the rest of the dish. The white paste they were sitting in was very flavorful and went with the venison very well.
Key Lime Cheesecake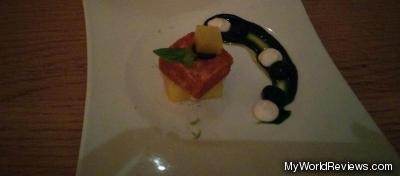 Key Lime Cheesecake
Chartreuse / Pineapple / Basil
The key lime cheesecake was a little tiny slice of cheesecake sitting on a small piece of pineapple. It was served with a rich basil sauce. It tasted very fresh, and was just the right size for a mini dessert.
Chocolate-Banana Trio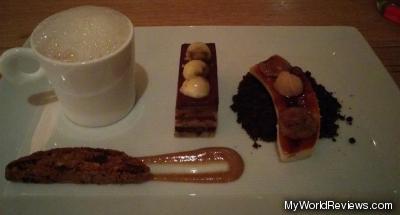 Chocolate-Banana Trio
Chocolate-Banana Opera Cake / Caramelized Banana / Hot Cocoa
The chocolate banana trio dessert was a pretty typical and good dessert. The caramelized banana was sitting in a bed of chocolate crumbs. The opera cake had three little dots of banana sitting on top, which were a nice fruity addition. There was a little piece of biscotti, and a mini mug of hot chocolate that was creamy.
review contents
Dress
Cost
Service
Reservations
Items Ordered
Amuse-Bouche
Celeriac and Roasted Chestnut Soup
Farro Spaghetti
Millbrook Venison
Key Lime Cheesecake
Chocolate-Banana Trio
related reviews
More reviews in New York, NY
Been here? Want to write your own review of this restaurant?