Your Reviews About the World
MyWorldReviews.com
Let the world know what you think
Rosa Mexicano
New York, New York, United States
9 E 18th St.
New York, New York, United States
10003
212-533-3350
rosamexicano.com
View Map
Overall Experience:
7 / 10
Date Visited:
Saturday, July 30, 2011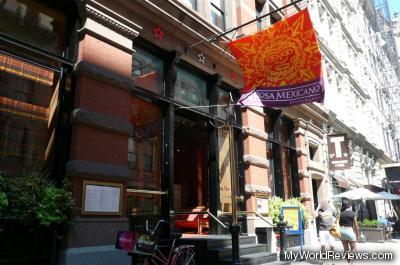 Rosa Mexicano
Rosa Mexicano is an upscale chain of Mexican restaurants with three locations in NYC. We visited their Union Square restaurant. The interior was nicely decorated with a modern theme, and it was very large. There were also two private party rooms near the back. The food was all pretty good, although slightly more expensive than other Mexican places.
Dress
Smart casual
Cost
The decor here is quite nice, and you pay for it in the food prices. Expect to pay a little more than average.
Items Ordered
Guacamole en Molcajete
Guacamole en Molcajete
Since 1984 we have been serving freshly made guacamole with avocado, jalapeno, tomato, onion, and cilantro. Prepared tableside. Served with warm corn tortillas, tortilla chips, salsa pasilla de Oaxaca and salsa de tomatillo y habanero. Serves 2-3 (appetizer)
The guacamole was prepared table side and made from a whole avocado. We asked for it to be spicy, but it was fairly mild. We solved that by mixing in the dish of salsa it was served with.
The guacamole was fairly chunky, and tasted nice and fresh. It was served with some soft tortillas and tortilla chips.
Ensalada del Mercado / Market Salad
Ensalada del Mercado / Market Salad
Mixed greens, avocado, radishes, tomatoes, carrots, red onions and orange segments tossed with honey-lime vinaigrette.
The salad was mostly lettuce with a bit of vegetable mixed in. The dressing and the orange slices gave it a slightly summer/fresh fruity flavor that was quite nice on a hot day.
review contents
Dress
Cost
Items Ordered
Guacamole en Molcajete
Ensalada del Mercado / Market Salad
related reviews
More reviews in New York, NY
Been here? Want to write your own review of this restaurant?