Your Reviews About the World
MyWorldReviews.com
Let the world know what you think
Riverview Restaurant/Lounge
Long Island City, New York, United States
2-01 50th Ave.
Long Island City, New York, United States
11101
718-392-5000
riverviewny.com
View Map
Overall Experience:
7 / 10
Date Visited:
Friday, April 17, 2009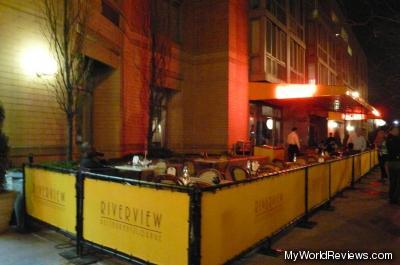 Riverview Restaurant/Lounge
The Riverview Restaurant is a restaurant located in Long Island City, right along the East River (directly across from the UN building). The best reason to go here is for the view. Although the interior is quite nice, the patio is great on a nice day. The restaurant does have a pretty great view of Manhattan. Unfortunately, trees along the street obstruct some of the view, and during our visit, there was an ice cream truck that played its simple tune repeatedly. Still, the Riverview Restaurant offers slightly upscale food at prices that are reasonable for what is offered.
If you want to enjoy the view of the Manhattan skyline, the "Gantry Plaza State Park" (located right next to the Riverview Restaurant) offers some fantastic unobstructed views.
Dress
Nice casual - jeans and a button shirt are appropriate.
Cost
The quality of the food is slightly upscale, and the prices match. Most entrees range from $20-$35. Salads are between $10-$15.
Service
There wasn't anything noteworthy about the service.
Reservations
When we visited, around 7pm on a Saturday, there were only a couple tables left outside. Most of the inside was empty. If you want an outside table, it's probably a good idea to make a reservation.
Items Ordered
Bread and Olive Tapenade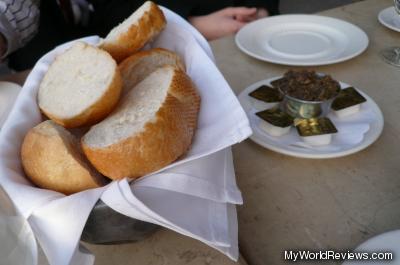 Bread
After ordering, we received a basket of bread and olive tapenade. The bread was a very plain white bread. I was expecting something a little nicer.
Riverview Salad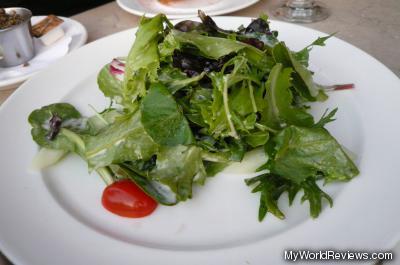 Riverview Salad
Cherry tomato, red radishes, sliced cucumber and shallot sherry vinaigrette
The Riverview Salad was a reasonable salad. It was mostly all lettuce. When the description says "cherry tomato", they really mean one cherry tomato cut into two halves. There also wasn't much cucumber. In spite of the lack of vegetables, the shallot sherry vinaigrette was a good dressing that made it an enjoyable salad. It had a slightly sweet acidic flavor.
Crab Cake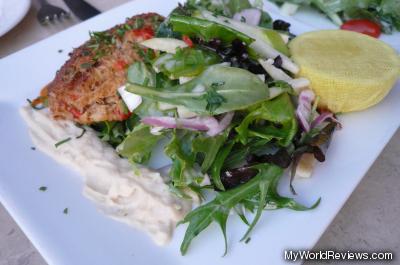 Crab Cake
Cauliflower puree, frisse, shaved onions red pepper coulis, apple sherry vinaigrette
The crab cake was a pretty tasty crab cake. It also came with a small salad. The salad had pear in it, and was quite sweet. I thought this salad was better than the Riverview salad.
Vegetarian Risotto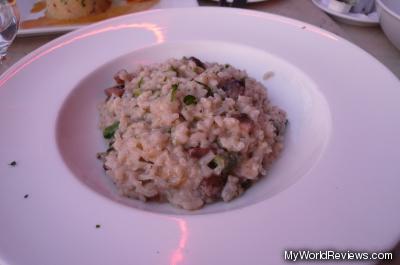 Vegetarian Risotto
Sauteed mushrooms, asparagas and a fresh herb/truffle oil sauce
The vegetarian risotto was a pretty good creamy risotto. It could have used a few more vegetables, but otherwise it was pretty tasty. It was a fair size, although the huge plate makes it look small.
Filet Mignon
Filet Mignon
10oz. Potato fondant, baby vegetables, tomato compote, shallot red wine sauce.
The filet mignon was a decent steak. It was a little bit tougher than I thought it should be, but it was still not bad. The tomato compote was incredibly flavorful. It had a delicious and strong tomato flavor.
The potato fondant was alright - it was a different way to serve mashed potatoes. It was pretty bland, but the flavorful tomato compote went well with it.
The baby vegetables consisted of baby carrots and asparagus.
review contents
Dress
Cost
Service
Reservations
Items Ordered
Bread and Olive Tapenade
Riverview Salad
Crab Cake
Vegetarian Risotto
Filet Mignon
related reviews
More reviews in Long Island City, NY
Been here? Want to write your own review of this restaurant?