Your Reviews About the World
MyWorldReviews.com
Let the world know what you think
Ritz Carlton Battery Park - Liberty Suite
New York, New York, United States
2 West Street
New York, New York, United States
10004
212-344-0800
ritzcarlton.com
View Map
Overall Experience:
9 / 10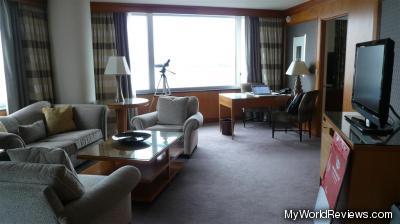 The Liberty Suite
The Liberty Suite at the Ritz Carlton Battery Park is so named because its many windows all provide a great view of the Statue of Liberty. The hotel itself is located at the southern tip of Manhattan, near Battery Park.
The suite consisted of one large main room, with a kitchen and bathroom off to the side. The main room had one conference table that could seat six people (but only four comfortably). There was also a couch area with seating for four, and a desk. Before we visited the suite, we saw pictures of a telescope in the room. We were pleasantly surprised to see that the room did, in fact, come with a telescope that was pointed at the statue of liberty. How novel!
We were using the room for a business meeting, and found it to be a perfect location. The view was inspiring, the furniture was comfortable, and the club lounge provided snacks throughout the day.
The Bedroom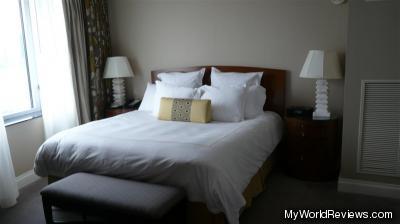 The bedroom
The bedroom had a king sized bed and an ensuite bathroom. The ensuite bathroom was quite nice, and had a "Japanese-style" toilet (that included a heated seat). There was a control panel on the wall that offered a front wash, rear wash, or pulse wash for the more adventurous. The toilet also offered to blow you dry after your cleaning, if you so desired.
The Club Lounge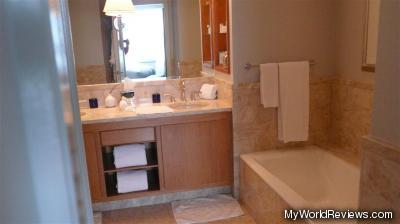 The Ensuite Bathroom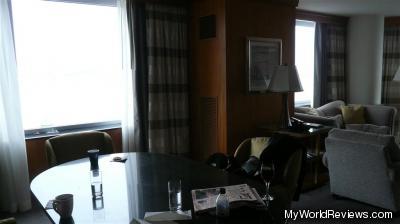 Conference Table
It seems like all rooms on this floor are suites, so it makes sense that the club lounge would also be located on this floor. Access to the floor is controlled by requiring guests to swipe their card in the elevator before being able to access the floor.
The suite includes access for two to the club lounge. When we visited, there didn't appear to be anybody checking names or counting guests before we could access the club lounge, but that may have just been the day. Beyond two people, access to the club lounge cost around $75/person.
I don't think there was an official dress code to access the club lounge, but most visitors were probably business people, and were nicely dressed with pants/nice shirts (a couple people were wearing jeans).
The club lounge had coffee/tea/cookies/soda available throughout the day. During lunchtime, they brought out some salads, sandwiches, and wine. Around dinner time, they had breads, chicken/lamb kebabs, salads, cheeses, and more wine. I was actually fairly impressed with the quality of food. The kebabs in particular were delicious, and included pieces of dried apricot.
Cost
The liberty suite costs around $1300/night, although prices appear quite variable. Check the hotel website for the most up-to-date information.
review contents
The Bedroom
The Club Lounge
Cost
related reviews
More reviews in New York, NY
Been here? Want to write your own review of this hotel?