Your Reviews About the World
MyWorldReviews.com
Let the world know what you think
Rice to Riches
New York, New York, United States
37 Spring Street
New York, New York, United States
10012
(212) 274-0008
www.ricetoriches.com
View Map
Overall Experience:
6 / 10
Date Visited:
Friday, February 3, 2012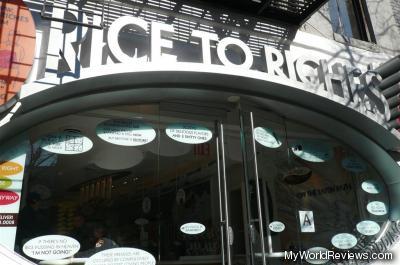 Rice to Riches
Rice to Riches is a fast food restaurant serving only rice pudding, located in the SoHo neighborhood of NYC. The restaurant is decorated in a unique modern style with bright colors and interesting shapes. The walls are covered with funny phrases and cartoons - threatening slow and fussy customers with extra charges.
The restaurant is similar to an ice cream shop. They offer 21 different flavors of rice pudding and a selection of 12 toppings. The pudding flavors are all on display behind a glass, and you can even ask for a taste of some of the unusual flavors before making your choice.
The restaurant has limited seating space. There is a long round booth with a few tables, and a few additional tables with standing room only.
Although the restaurant received an "A" rating from the health inspector, during our visit, a NYC rat ran across the restaurant floor during broad daylight!
Service
Place your order and pay at the counter, then take a seat and enjoy.
Items Ordered
Rice Pudding with Spirit Topping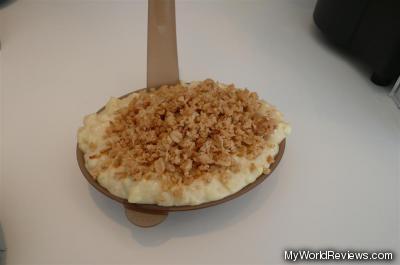 Rice Pudding
Rice Pudding - Bring home the Banana Walnut
Spirit Topping - Oatmeal Coconut Crumble
This rice pudding was the small "Solo" size, but the pudding is very rich and I was unable to finish it all. Rice pudding is an unusual treat - it's somewhere between a dessert and a meal. With the banana and oatmeal crumble, I felt it made a reasonable lunch. The banana pudding was not too sweet but had a nice creamy texture. The spirit topping went well with the flavor and added a bit of a crunch.
The rice pudding came in a cute reusable plastic bowl that came with a sturdy spoon and a lid. I made use of the lid to take my leftovers home.
review contents
Service
Items Ordered
Rice Pudding with Spirit Topping
related reviews
More reviews in New York, NY
Been here? Want to write your own review of this restaurant?