Your Reviews About the World
MyWorldReviews.com
Let the world know what you think
Reuben H. Fleet Science Center
San Diego, California, United States
1875 El Prado
San Diego, California, United States
92101
619-238-1233
rhfleet.org
View Map
Overall Experience:
4 / 10
Date Visited:
Tuesday, May 6, 2008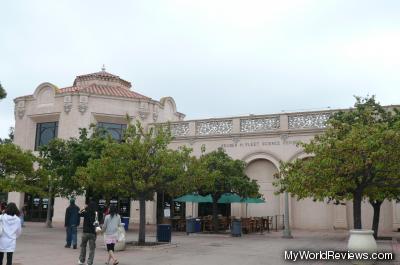 The Reuben H. Fleet Science Center is a science center located in San Diego's Balboa Park. I was quite disappointed with the science center. It was fairly small, and the quality of the exhibits was below average.
The science center had one main room with a number of exhibits in it, and a number of smaller rooms. Some of the exhibits that the science center did have were neat, but there weren't very many of them.
The science center did have a theremin, which was something I had never seen before. It was a very early electronic instrument with a very distinct and eerie sound. The volume on the theremin was very low, and it was difficult to control, but it was still neat to see one.
Escape From Dino Island 3-D Ride
The science center charges an extra $4 per person to go on the "Escape From Dino Island" simulator ride. It was absolutely awful. It may have been neat for kids in the early 1990s, but it is now incredibly dated. Avoid this attraction - it is certainly not worth the extra money.
IMAX Movies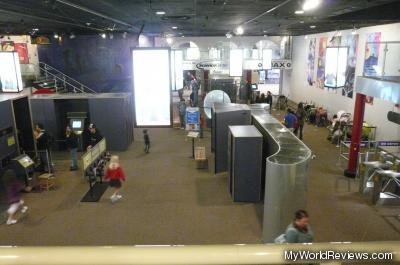 Inside the R.H. Fleet Science Center
The science center does have an IMAX theater. We saw two movies while there - Sea Monsters, and Dolphins.
The sea monster movie was pretty weak. All the sea monsters used CGI graphics. The movie was also very boring - it wasn't exciting at all. There were no real "monsters", just large fishes.
The dolphin movie had some neat footage. It was definitely better than the sea monster movie, but still not that great. The movie mainly told the story of two people who study dolphins.
Cost
On the first Tuesday of every month, basic admission is free. Visitors pay $7.50 to see one IMAX movie, or $11.50 to see two IMAX movies. Ordinarily, visitors pay $8 for admission, $12.50 for one IMAX movie, or $16.50 for two imax movies. Check out the official website for more up-to-date prices.
Estimated Visiting Time
To visit the entire science center, 2-3 hours is probably sufficient. Allow an additional 45 minutes for each IMAX movie you intend to see.
review contents
Escape From Dino Island 3-D Ride
IMAX Movies
Cost
Estimated Visiting Time
related reviews
More reviews in San Diego, CA
Been here? Want to write your own review of this attraction?
linked reviews